05.17.11
Let's finish the tour of the front porch, shall we? So many interesting things to see…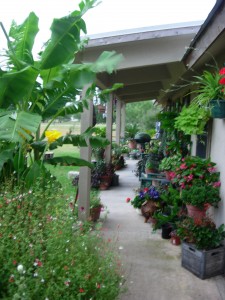 Long view heading to the porch
If you're lucky enough to live in the country, then you have some sort of place to sit outside. Just too pretty here not to. That's why it's considered another room in the house. Frankly, you're judged by your porch. Old worn out couch and fridge on the porch? Only done in Mississippi, thank you.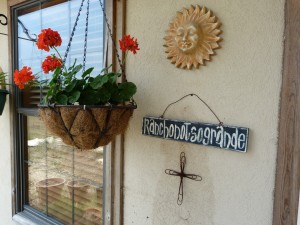 Pretty well sums up our 1,650 sq ft castle
At least you can tell from the left side of my doorway that I believe in God, love flowers, the sun and know the Styrofoam house's limitations. Anyway, it's our little piece of heaven in the Hill Country.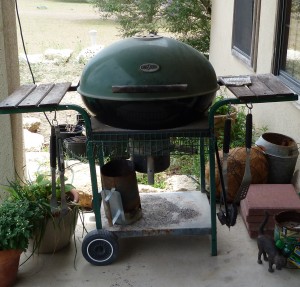 A Weber Charcoal Grill is essential for entertaining
My husband bought this grill four weeks before he died. We had been propane people for years, but he decided that everything tasted much better with charcoal. He was proud as punch of this grill and proceeded to burn our steaks to a crisp. Neither he or I knew the secret of letting the coals calm down a bit before slapping anything on the grill.
After he died, I decided it must have been a gift from him to make sure we always ate well. After a few false starts, I've got it down to a science. Except for chicken with barbeque sauce. Still burn that. Most of all, I love grilled vegetables. I wonder how many more years this 13-year-old will keep cranking out delicious food? Forever, I hope.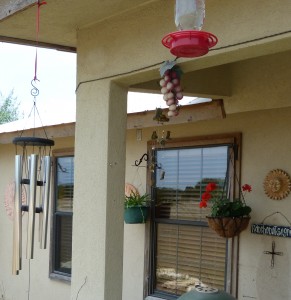 Admittedly, this is a lousy photo
But it shows three necessary items: wind chimes for peace, grape lights for romance and the bottom half of a hummingbird feeder which is for the birds. Literally.
Unless the winds are blowing 25 mph, I love the sound of my wind chimes. I have a lovely group of six grape lights that string across the top of the porch and light up things nicely at night. That's how my porch got the name, Medina Mikie's Wine Porch. Finally, we get hummingbirds here from the middle of March until the middle of September and these guys are lots of fun to watch. Did you know they come back to the same feeders every year? Obviously none of them has a post-menopausal brain.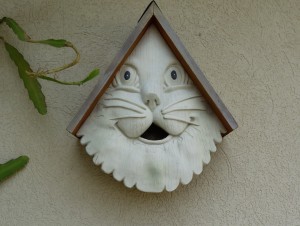 Speaking of being for the birds…
I just loved this bird house when I saw it. Unfortunately, the birds don't. No worries, I have many other bird houses that they love. They just refuse to deal with the cat.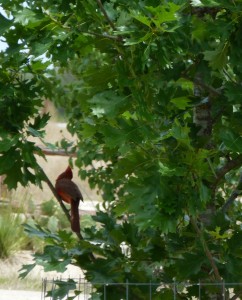 A beautiful cardinal, which signals love in your life
I've had lots of great birds this year – Blue Birds (happiness), Painted Buntings (a gift from Sherwin Williams), Finches (Peat and Repeat) and many more. Never was much of a bird watcher, but now I am. Senility is setting in.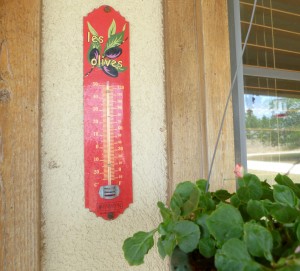 A trusty thermometer
There is no clock on the porch, but there is a thermometer only for the simple reason that you can call your friends and say, "Can you believe how hot/cold it is? My thermometer says it's 107. I've got to run back inside to the air conditioning!"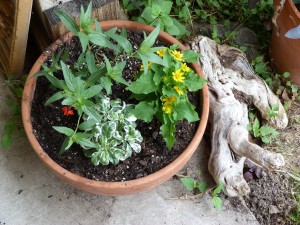 Pots of Mixed Flowers
Ladies, don't wait for a man to bring you flowers. Plant them for yourself and do your soul some good right now! The one to the left, with the one red bloom on it is called Bat Face and, being born on Halloween, is my favorite. All witches need bats in their life. Unfortunately, I also have them in my belfry.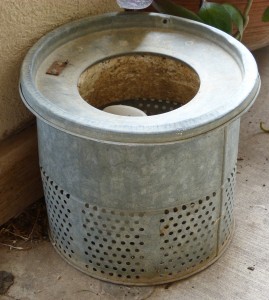 A Cowboy Candelabra
This old minnow bucket came from where else? The dump. When you light a candle in there at night, it makes the most beautiful candle holder with thousands of little lights on the porch. Extra classy.
I guess that about wraps it up for the official Medina Mikie's Wine Porch and Social Setting. If you're ever in the area, feel free to drop by.
Tomorrow's column day and I have no clue what we'll get into Friday. Hopefully something really funny!
Spreading laughter throughout the world…one chuckle at a time.
Mikie Baker
www.mikiebaker.com
Tags: Baker, Bat, bats, Birds, Blue, brain, Buntings, Candelabra, Charcoal, chimes, Country, Cowboy, Dancing, Dog, Essentials, Face, Finches, Flowers, for, Grill, Halloween, Hill, House, hummingbirds, in, Life, Medina, menopausal, middle, Mikie, Mikie's, Mixed, need, of, of March, Painted, peace, Porch, post, pots, Ranch, Sherwin, Styrofoam, The, their, Weber, Williams, wind, Wine, Witches, www.mikiebaker.com