03.05.12
I finally found some Pork Baby Back Ribs on sale. Seems like they've gotten really expensive lately, just like everything else. Stroke of Genius said he had a great, classic recipe for ribs, so I threw the rack at him and let him have at it. Amazingly, they were delicious, so I thought I'd share the recipe.
Actually, I can't share the recipe because men don't know about such things but I can share the pictures and tell you how he did it.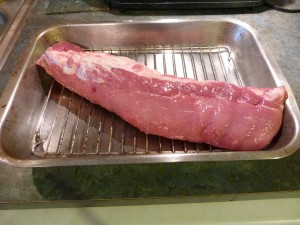 Start with a rack of Pork Baby Back Ribs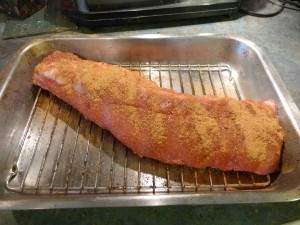 Season both sides with your favorite rub
I used Kuby's Meat Rub Seasoning.  They're in Big D and make great sausage, ribs and rubs.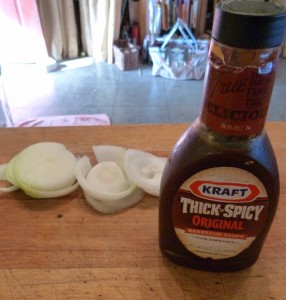 Slice up an onion and grab a jar of BBQ Sauce
Normally, I prefer Stubb's Barbeque Sauce, but this was the only thing I had laying around. When you're out in the country, well, you go with what you've got.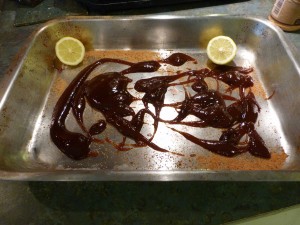 Spread some sauce around in the  bottom of the pan
Then cut a lemon in half, squirt both halves into the sauce and throw the lemons in there, too. Just adds flavor, SOG says.
Spread the sliced onion over the sauce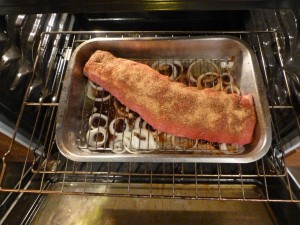 Put the rack back and then place the ribs on top
Bake in a preheated 325 degree oven for at least 1 1/2 hours until it's getting pretty tender, but not too tender because you don't want the ribs to fall apart on the grill.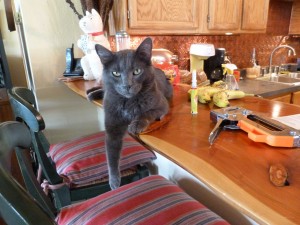 Usually, while things cook, the cat gets bored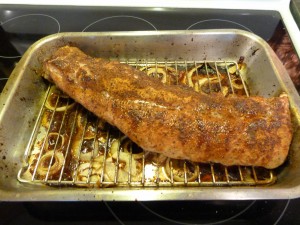 When the ribs get done to your liking, pull them out of the oven and then coat them with some barbeque sauce.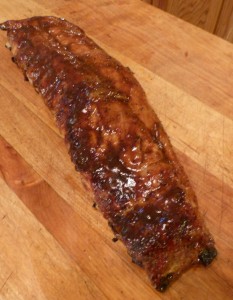 Lightly coated ribs
Cut the ribs in half so they will be easier to handle.
Take the rest of the sauce and the pan with the cooked onions and sauce in it out to the grill.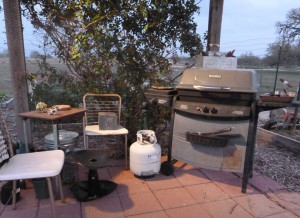 The Grille at The Crazy House
Only cost 20 bucks at a garage sale, needed a $17 part and we were good to go.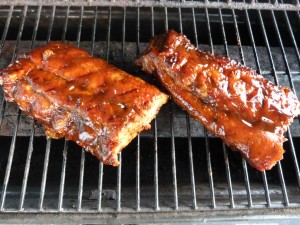 Grill over medium heat, turning and coating with the sauce.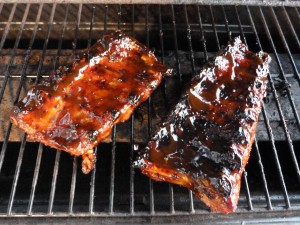 When they look good and done take 'em off and enjoy.
Here's the lovely, finished product.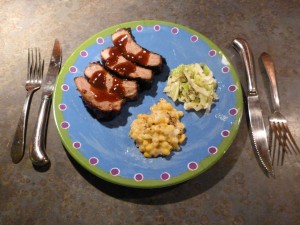 Don't ask me why Stroke of Genius put forks and knives on both sides. Guess he thinks it is a messy meal.  Anyway, enjoy your grilling!
Spreading laughter throughout the world…one chuckle at a time.
Mikie Baker
www.mikiebaker.com