09.22.11
Ah, all good things must come to and end (or we may end up in the ER), so it's time to say goodbye to another Spadette River Trip.
Seems I'm always the first up in the mornings. My internal clock won't let me sleep past 5:30 am. Given a hard weekend of partying with the girls, I was waking up around 7:00 am but I still managed to always be the first up.
When I dragged my sleepy self outside, this was my view.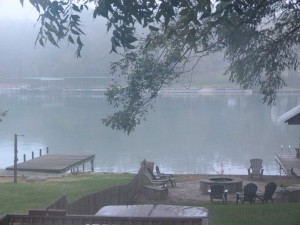 Morning Fog
Because it had rained most of the afternoon the day before (and we actually enjoyed it), it was pretty foggy early in the morning. Quite pretty, actually. And it kept getting foggier.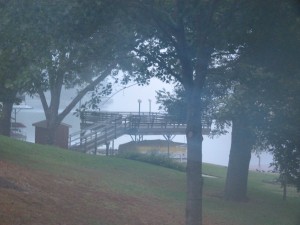 View of the house two doors down
Funny how people approach their spot on the lake. Our house led right down to the lake for the perfect sitting spot. These people opted for a raised view about their boat. I guess the boat's the thing that gives them a close up view of the water.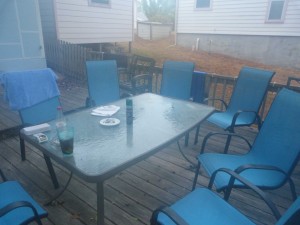 Looks pretty lonely, doesn't it?
Just as I was sitting there by myself and finally waking up (thank you Lord for diet Dr. Pepper) I was joined by the next early riser.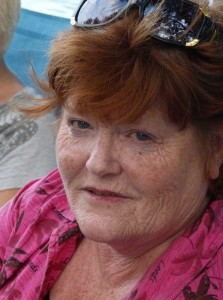 Card Shark Spadette
I mean look at those eyes. You can tell that woman can play a mean game of Spades. Trust me, she loves a Blind Nilo almost as much as she loves her husband.
So one by one, out them came. A little sleepy and a little hungover, but perfectly content and relaxed. And that, folks, is what a River Trip is all about. So we sat around and talked more (women never stop talking, ever), had breakfast and then made that unwelcome decision – it was time to pack it up and head home. The fog had lifted hours earlier.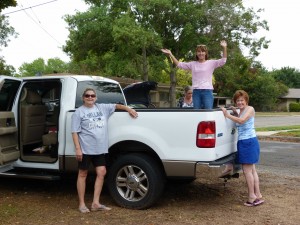 You can not believe how much you can pack in the back of a pick up
Once we'd gotten everything loaded in the vehicles, we gathered round once again to say our goodbyes and remember that we really are still a bunch of hot chicks.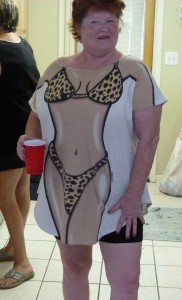 See what I mean?
Age is all about your state of mind and we collectively are about 2 years old.
Every year the last thing we do is take the traditional photo of the group together. Sometimes we can find a stranger to take a picture of all of us, but mostly, one of us is missing as she's taking the picture. I took the pictures, but one of the girls had me get into the photo and she took a picture with my camera. That's the picture I chose to show you because, after all, it's really all about me anyway, isn't it? Well, at least my blog is.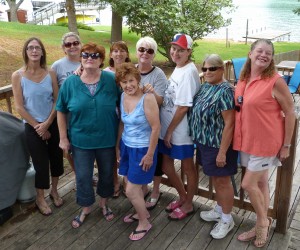 Now that's one gorgeous group of women
The Spadettes and I would like to thank you for enjoying the Infamous Spadette River Trip. Next year's our 30th anniversary – expect some wild things from this group!
Next week? Well, we may just talk quilts. And cook something up. Enjoy your weekend.
Spreading laughter throughout the world…one chuckle at a time.
Mikie Baker
www.mikiebaker.com