05.13.11
A month or so ago, I introduced you to most of the characters here at the Dancing Dog Ranch. I left one out – on purpose. Actually, he's my favorite character of all.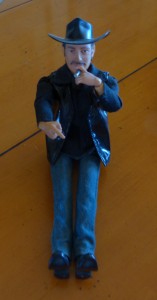 My talking Kinky Friedman doll
The real Kinky lives down the road about 5 miles from me. I have always been a fan of his humor and use of the English language. His success as a writer and humorist is legendary. Rumor is, they're working on a stage play about his life.  If they ever did one about me, it would probably be a One Act play.
How did I come to meet Kinky? Back in 2006 I volunteered to be co-county Chairman of the Kinky Friedman gubernatorial campaign with My Former Friend. We worked extremely hard, played even harder and got more signatures per capita than any other county in the state. We probably sold more merchandise then the rest of the sparsely populated counties in Texas combined.
Though a good portion of the people in Texas thought Kinky would have made a great Governor, it seems that even more liked Big Hair. I fear the state would be a better place had Kinky won the election, but those days are past.
Kinky has a kind heart. He started and funds the Utopia Animal Rescue Ranch for abandoned dogs in our area. You know how it is the country, strays just "magically" show up. Rather than see our four-legged friends suffer, Kinky has created a premier no-kill shelter. Cousin Nancy and her husband Tony run the Ranch and have matched many a human with their new best friend. Dog-gone-it, they work tirelessly for the good of the dogs.
You can read Cousin Nancy's blog on the ranch, too. The link is in my Blogroll to the right.
When I decided to make writing my career, I headed up to Kinky's place to get advice from the man I admire. He's been very helpful to me, even giving me a great endorsement.
"She's almost as funny as me – and a lot better looking!"
-Kinky Friedman
For such a glowing recommendation, I figured I owed The Guv, so I decided what better way to repay him then through something funny? That's why I've introduced my favorite new shirt which I plan to be sporting all over the county.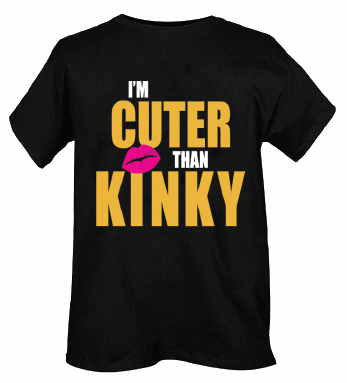 And I think that you're cuter than Kinky too, so why don't you buy a shirt for yourself? A generous $5 from the sale of each shirt goes straight to the Utopia Animal Rescue Ranch to help the dogs that are hanging around there waiting to find a good home.
The Kinkster and I would appreciate it. Just click on the merchandise button to get yours today.
I think he's giving you the eye to buy
because I've never seen him this serious before
Spreading laughter throughout the world…one chuckle at a time.
Mikie Baker
www.mikiebaker.com