12.11.11
This is a simple, down low Christmas for me. Just not up to celebrating big with Dearly Demented Mom gone. I was in a quandary about what exactly to do and after talking it over with Very Best Friend, I decided my favorite thing about Christmas is lights.
With that in mind, first I pulled out all my Christmas candles and fancy Christmas candle holders. I lit the place up the first night and it starting getting me in the holiday spirit.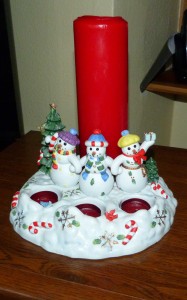 Who can be sad with Snowmen waving at you?
Then I slowly worked my way into Christmas wreaths and finally ended with a little three foot artificial tree I've had forever. I think I first bought it for the office, then it became a fixture in the Teenage Eating Machine's room every Christmas and finally it has a place in my living room.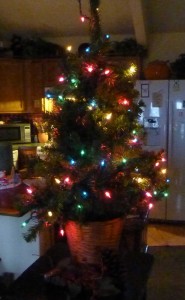 Frankly, I can't believe it survived the Teenage Eating Machine
There was another reason I didn't go out and buy a nice, fresh 6 foot tall tree. I figured The Siamese Terrorist would take it out anyway. See, even Chuck is in the Christmas spirit.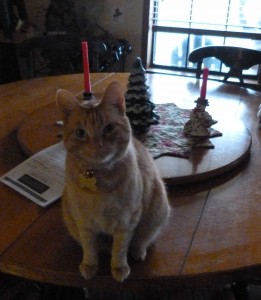 Because he's orange, he really likes Halloween better, though
Well things have been going along just fine until I looked up from my desk the other day after I heard a funny noise. I grabbed the camera for this before I started screaming.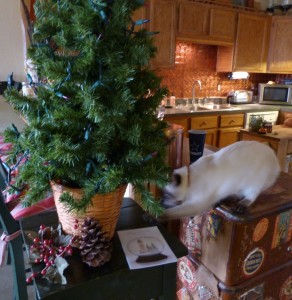 The Siamese Terrorist on the attack!
Of course, I had to scream Samino! and this was the reaction I got.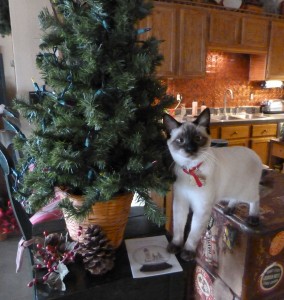 What? Who me? I'm totally innocent!
I guess you know who's been naughty and who's been nice around here. Looks like Sammy gets coals in his stocking this year!
Tomorrow I think I'll update you on the winter garden and I still have another soup recipe to share later this week. Now quit reading and get shopping!
Spreading laughter throughout the world…one chuckle at a time.
Mikie Baker
www.mikiebaker.com