12.08.11
Love it? So do I! Hate it? We'll see you Monday.
For you Split Pea Soup lovers, let's move forward. This is the heartiest soup I make and I save it for really cold nights. If  you don't have a big family around anymore, all soups are very "freezeable" and there's nothing better than hot homemade soup without the work on a cold, winter night.
Simple ingredients…
…except you need a ham bone and a pretty good chunk of ham. You can freeze the Christmas ham and do this later or if you've got a meaty ham bone laying around, you're good to go.
By the way, if you buy a Honey Baked Ham, you must trim off all the glazed part before ever using the bone in a soup recipe. Trust me, I tried it once without the trimming and I got sweet soup. Yuck.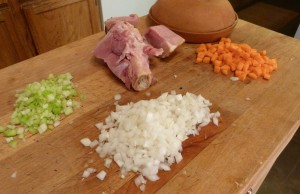 The chopped up ingredients
Unlike Olive Garden Minestrone, this puppy is simple. You've got peas, a ham bone, celery, onions and carrots. Let's soak those peas, add some stuff and get this over.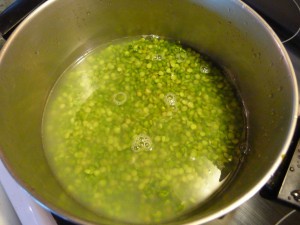 Soak the peas
This is, evidently, a very controversial step. The split pea bag instructions say you don't need to soak your peas. My recipe says you must.  So I'm going to give it to you by the 1960's version from Betty Crocker. I believe everything Erma Bombeck and Bettty Crocker say. Sorry, but I was just raised that way.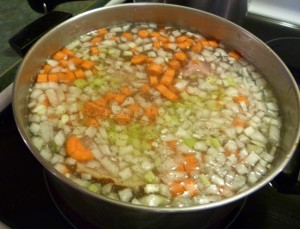 Add the other stuff
Now you're just going to boil for awhile. No action shots there.  Let's wrap this thing up.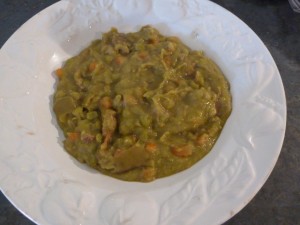 Split Pea Soup
I know, never a great shot will it make. But like I said in the beginning, love it or hate it. You lovers know to add a bit less water and make it extra thick. That's the secret. Half a bowl of Split Pea Soup and you're full. No need for bread. Thick is warm. Now let's get to that Betty Crocker classic recipe.
Split Pea Soup
8 cups water
1 pound dried split peas
2 pounds smoked ham with ham bone
1 medium onion, chopped
1 tsp salt
1/4 tsp pepper
2 medium carrots, chopped small
2 medium celery stalks, chopped
In a Dutch Oven add peas to 8 cups of water. Heat to boiling.  Boil 2 minutes. Remove from heat;  cover and let stand an hour.
Add ham and ham bone, onion, salt and pepper into peas and water. Bring to a boil, reduce heat and simmer an hour or until peas are tender. (Lovely mush in my book.)
Remove ham, trim fat, remove the bone and cut into 1/2 inches pieces. Add ham, carrots and celery into soup. Heat to boiling, reduce heat, cover and simmer another 45 minutes or until vegetables are tender.
Next week? No clue. Maybe a dead garden day tribute to the Magical Eggplant Bush and some fall gardening talk, though mine it not looking so great. It needs more attention. Don't forget to keep wrapping those presents!
Spreading laughter and recipes throughout the world…one split pea at a time.
Mikie Baker
www.mikiebaker.com