12.06.11
It's going down to 21 here tonight, so I'm glad I already whipped up a batch of this soup. I felt like Minestrone the other day and didn't think the recipes I found in my cookbooks looked exciting, so I found this on the Internet.  It claims to be the real thing from Olive Garden. It tastes great, but I really missed those garlic bread sticks with it…
I found this recipe on sparkpeople.com. I added the link to give credit where credit is due. Now let's get started.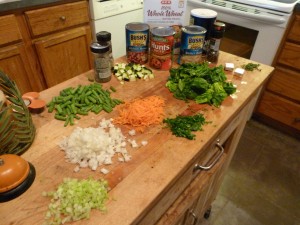 All the ingredients ready to go
I will say that you need to be in the mood to mince and chop to make this. That definitely takes awhile. But after you get all that done, the rest is pretty simple, though you still have several steps.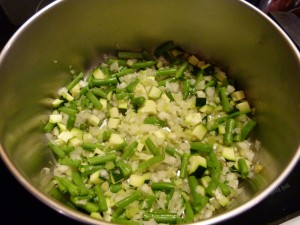 The first step is sauteing
But  you only do the onions, celery, zucchini, green beans and garlic.
Next add the vegetable broth (note: don't use chicken broth), the rest of the vegetables, the spices and more hot water.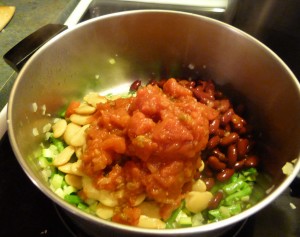 Feeling Italian yet?
You need to bring to a boil, simmer 20 minutes and then add the rest of the millions of chopped up vegetables you have.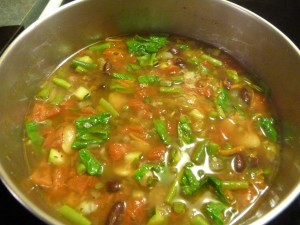 More simmering
After another 20 minutes and the rest of the vegetables it will look like this.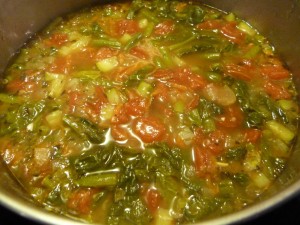 Wow! Looks fresh to me!
Cook some great crusty bread (see Monday's blog) or make your own garlic bread sticks and you've got a great, healthy meal that looks like this.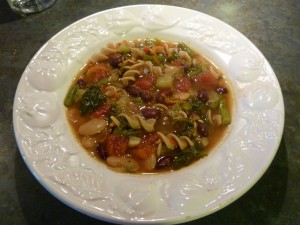 Beautiful and delicious!
Okay, here's the recipe for this delicious soup.
Olive Garden Minestrone Soup
2 Tbsp olive oil
1/2 cup minced white onions
1/4 cup chopped zucchini
1/4 cup frozen cut green beans (I used fresh)
1/4 cup minced celery
2 tsp minced garlic
4 cups vegetable broth (Swanson's is recommended and don't use chicken broth)
1 (15 ounce can) red kidney beans, drained
1 (15 ounce can) small white beans, drained
1/2 (14 ounce can) diced tomatoes, drained (I used a whole can)
1/2 cup carrots, julienned or shredded
2 tsp minced fresh parsley
1 tsp dried oregano (I used fresh)
1 tsp salt or salt substitute
1/2 tsp pepper
1/2 tsp dried basil
1/4 tsp dried thyme
1 1/2 cups hot water
3 cups fresh spinach
1/3 cup small shell pasta (I used whole wheat rotini because that's what I had and it's even healthier)
Directions
Heat 2 Tbs of olive oil over medium heat in a large soup pot. Saute onions, celery, garlic, green beans, and zucchini in the oil for 5 minutes or until onions begin to turn translucent.
Add vegetable broth plus drained tomatoes, beans, carrots, hot water and spices. Bring to a boil, then reduce heat and simmer for 20 minutes.
Add spinach leaves (I gave mine a couple of chops first) and pasta and cook for an additional 20 minutes. Devour.
Tomorrow is column day and then Friday is more soup because it's cold all week.
Spreading delicious food throughout the world…one recipe at a time.
Mikie Baker
www.mikiebaker.com