09.19.11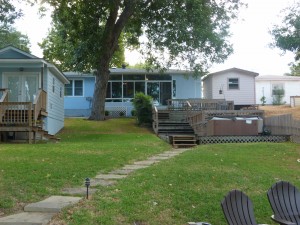 What do The Spadettes need for a whole weekend of fun? A lovely house on the river that sleeps twelve, plenty of libations, food for 50 and some great music. Oh and three decks of cards, of course.
So here's the view of the back of the house. It had several tiered levels and then a large sitting area with a fire pit down by the river. Looks calm, doesn't it? Well, I did arrive before the rest of the wild women so I got this shot in before all hell broke lose. Let's tour a bit more of the grounds, shall we?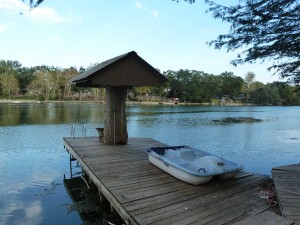 Is it a river or a lake?
We never really understood which it was, but I think it was more of a lake as we saw a few boats go by with a couple of water skiers attached except when they became unattached. You know how water skiing is. Or it's like that the way I do it.
So with this extreme drought, the big discussion was about whether the water was safe to get into or not. I went to the edge to take a closer look.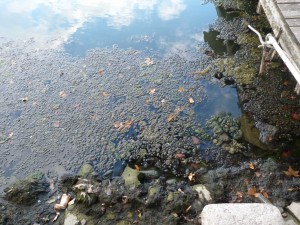 What is that stuff?
I dubbed it "river yuck". It was close to the bank, so I thought maybe farther out would be safer. Guess again.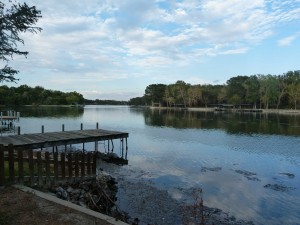 The scum reached way out into the middle
After lots of discussion, we decided the hot tub would be a safer place for us. And if we really got too hot, there was always the trusty water hose. A girl's gotta do what a girl's gotta do.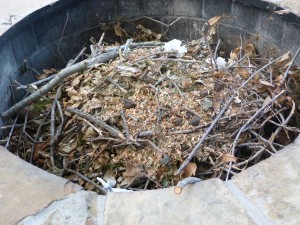 So we sat around the fire pit to discuss it
Of course, with the burn ban we knew we couldn't light the pit, but then again, it was 90 something degrees at the time. Things were starting to look bleak until Broken Knee Spadette showed up with an ice chest full of cold beer. And then I Have the Floor Spadette arrived with this contraption.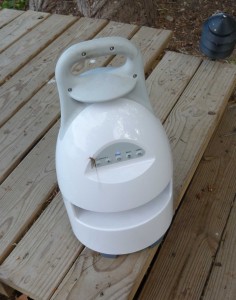 Brookstone's Best
This is a handy wireless speaker system that can play any music your little old heart desires. I Have the Floor Spadette loves Sirius (as do I) so she synced this thing (technical term) with her mother base (technical term) and we were rocking (non-technical term). Music and a cold one made the slimy lake look a lot better, I can tell you.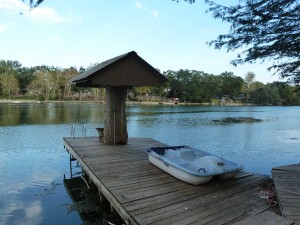 I know I showed this picture before…
…but we did discuss throwing the paddle boat in the water and using it. But then we figured we could never get it out of the water again, so we blew off that idea.  At least it was good for a discussion accompanied by more libations.
Tomorrow you'll finally get to meet The Spadettes, but let me just say for now that we really are a bunch of hot chicks. See?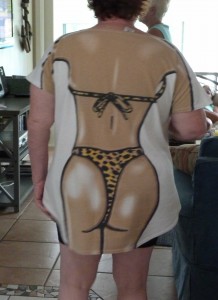 Now that is one Hot Mama
Spreading laughter throughout the world…one chuckle at a time.
Mikie Baker
www.mikiebaker.com