09.13.11
Like I've mentioned, I've grown a magic eggplant bush this summer that has produced nearly fifty eggplants. In looking for creative, non-fattening ways to cook eggplant, I ran across this super easy recipe from Kalyn's Kitchen. I changed it up a bit by leaving out chopped parsley and mint as I didn't have any fresh parsley and I'm just not that big a fan of mint. You could add those if you have/like them.
Here are the ingredients I used.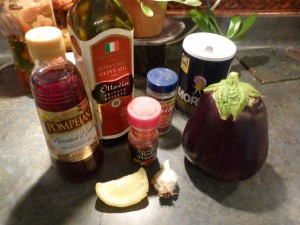 Look at that pretty eggplant straight from The Funny Farm
Okay let's start with that big boy. Wash it (even if you're organic like me) and cut off the stem. Kalyn suggested using Asian eggplants, but I don't grow those, so I used what she refers to as a "globe" eggplant. Here in Texas, we refer to them as "eggplants." Unless, of course, you're a fancy chef. And I am not.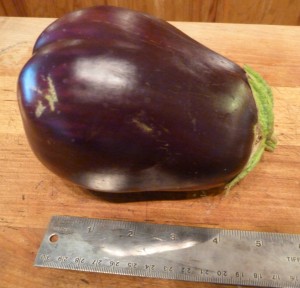 This is a medium eggplant
Don't peel the eggplant. Just slice it into thick slices approximately 1/2 to 2/4 inches each. Try and keep the slices consistent.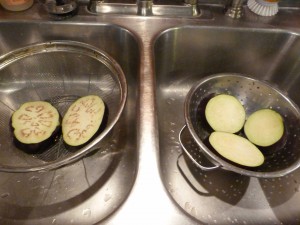 Put eggplant in a colander (or colanders)
Then sprinkle it with salt and let it drain for 20 minutes. Then turn it over and so the same thing to the other side. This gets all the extra water out of the eggplant.
While the eggplant is draining, whisk together the olive oil, red wine vinegar, lemon juice, garlic, red pepper and Spike Seasoning. (Note: Spike's a good seasoning that doesn't contain salt. You could use another kind if you have it.)
Put the eggplant pieces between two paper towels and squeeze out the extra moisture and then dry them off.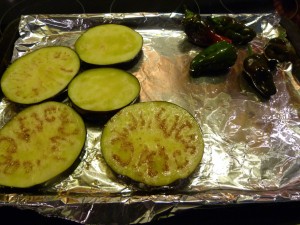 Brush both sides with olive oil
Then your eggplant is ready to grill.
On a medium hot grill, it should take 4 to 5 minutes a side. They brown quickly, so watch these babies on the grill.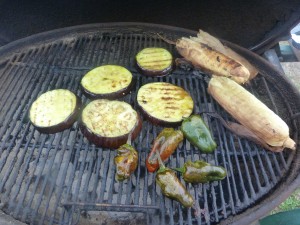 When I grill, I throw lots of veggies on there
They get pretty grill marks, don't they? When the eggplant is done, take them off the grill and place them in a large bowl. Pour the spicy sauce over them and stir gently to coat with the sauce. Let them sit 10 minutes so they can absorb the flavors. Kalyn then tops with chopped parsley and mint. I go the naked route.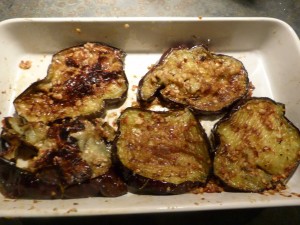 Boy are they yummy and not fattening!
Now here's my version of the official recipe.
Spicy Grilled Eggplant with Red Pepper
1 medium eggplant
1-2 tsp of salt (to remove water)
1-2 T olive oil (to brush eggplant before grilling)
Spicy Sauce:
2 T olive oil
2 tsp red wine vinegar
2 tsp fresh lemon juice
1 tsp chopped fresh garlic
1 tsp red pepper flakes
1 tsp Spike Seasoning
Remove stem end of eggplant. Don't peel, just slice into 1/2 to 3/4 inch slices. Put eggplant in colander in a single layer, sprinkle with salt and let drain for 20 minutes. Flip and repeat the process.
While eggplant drains, whisk together the Spicy Sauce to blend flavors. When the eggplant slices are ready, blot them with paper towels and dry. Brush with olive oil.
Cook 4 to 5 minutes per side on a medium hot grill. Watch so they don't get too done. When you finish grilling them, put them in dish, single layer style, and pour the Spicy Sauce over them, turning gently to coat them. Let them rest for 10 minutes to absorb the flavors.
Go grab everything else you're cooking on the grill and enjoy your dinner!
Tomorrow's column day and Friday – well, I'm going to show you how creative a kitten can get when he sleeps.
Spreading laughter throughout the world…one chuckle at a time.
Mikie Baker
www.mikiebaker.com