09.11.11
Been cooking up things around here. I found this great recipe on Kayln's Kitchen blog and I wanted to share it with you.
But first a bit of background on Peperoncinis. They are also referred to as Tuscan peppers or sweet Italian peppers. Peperone is plural and peperoncini is the single version. They are mild with a slight heat and are sold pickled in jars. They're yummy.
And now on to this delicious chopped salad.
Here's all the ingredients you need
That white plastic tub is full of Feta cheese. I just like that brand but any brand will do. Those are actually red peppers from The Funny Farm though they are pretty small this year.
Since it's called a chopped salad, I guess you know what you get to do next. Chop everything up.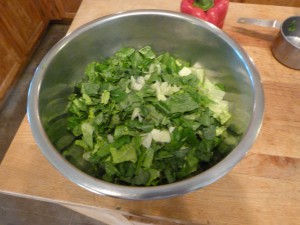 Chopped Romaine
You could tear it too, but as long as you're chopping everything else why not just take a knife to this as well? I used the whole head of Romaine.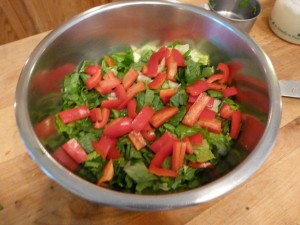 Chop up the peppers and add
Now in the original recipe Kayln calls for you to cut the Peperoncinis tops off, seed them and then chop. I found they seeded themselves when I chopped them.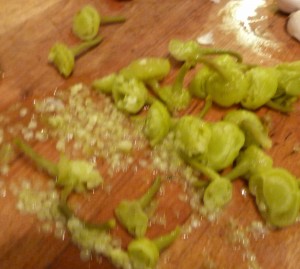 See all the seeds? They just kinda come out on their own.
Get rid of the seeds and add to your salad bowl.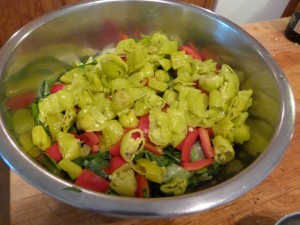 Now comes the messy part – crumbling the Feta cheese.
Of course you do get to lick your fingers.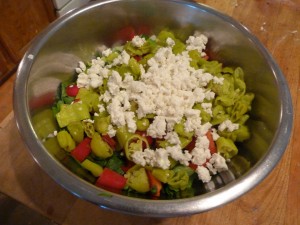 Yum look at all that cheese
Next make the dressing. Kayln's recipe calls for dried Greek oregano, but all I had was Italian Seasoning so I just used that. It tasted great. Use what you have.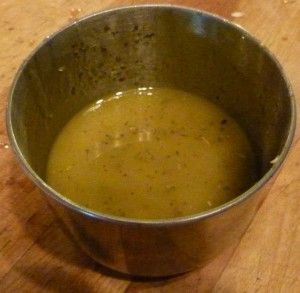 Just make sure you use a whip and add the oil a bit at a time so the dressing will get emulsified (which is just a fancy word for blended together good.)
Toss with the chopped ingredients and you have a great salad that's nice and crunchy.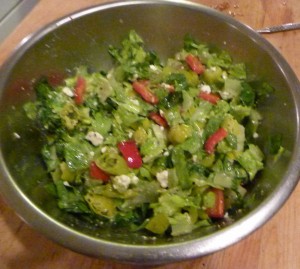 All done and fabulous
It keeps well in the fridge for a day or two, though the lettuce gets a bit soggy. Here's the recipe and enjoy!
Peperoncini Chopped Salad with Romaine, Red Bell Pepper and Feta
Dressing:
1 tsp dried Greek oregano (I used Italian Seasoning)
1/2 tsp minced garlic
3 T white wine vinegar
1 T Peperoncini brine (from the jar)
6 T extra virgin olive oil
salt and pepper to taste
Salad:
4 to 6 cups chopped romaine lettuce, washed and dried
1 cup sliced Peperoncini
1/2 red bell pepper, cut into short, thin pieces
1/2 cup crumbled Feta cheese
Put the dried oregano and minced garlic in a small bowl and mash together with a fork. Add the white wine vinegar, Peperoncini juice and salt and pepper. Whisk in olive oil a tablespoon at a time until it is nicely mixed.
Cut up all the other ingredients and put them in a bowl. Add the Feta cheese. Pour the dressing over (you may not need all of it) and toss. Thanks to the Italians and the Greeks for this one.
Spreading laughter throughout the world…one chuckle at a time.
Mikie Baker
www.mikiebaker.com