09.27.11
You know that old saying about if you wash your car then it will rain? Well, I put up my halloween decorations, so why isn't it cool? It's officially fall as the weatherman tells us. So can I get a blue northern, please?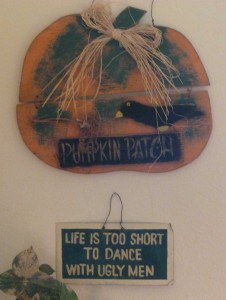 Oh no, it's a crow!
Maybe I should bring the scarecrow into the house. Do you like my other sign that hangs there all year long?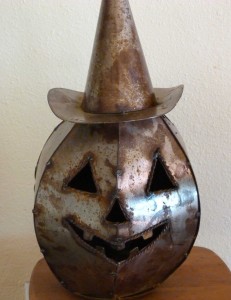 The Metal Pumpkin
He definitely looks like the "if I only had a brain" kind of guy. Actually he's really cute and was, of course, a birthday present. I've got him right next to my hat rack because he's got on his own hat. Maybe he should be called the Gone Country Pumpkin.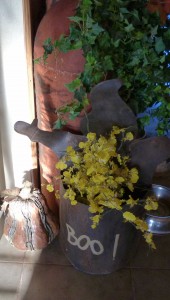 I've had Casper for years
He's not very scary. Just cute. Before I put the flowers in there, The Siamese Terrorist kept jumping in the ghost. Cat nut.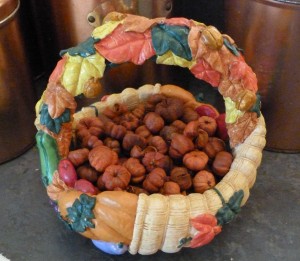 Look at those mini pumpkins
They came with this lovely fall dish a girlfriend gave me for my birthday. The mini pumpkins are scented with cinnamon. So delightful. And good through Thanksgiving.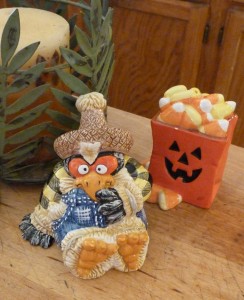 Classic Fitz & Floyd
Dearly Demented Mom gave me these. They are salt and pepper shakers from Fitz & Floyd. If I'd have several thousand bucks I could have gotten the matching set of plates, glasses, bowls, place mats, napkins, napkin rings, serving dishes, pitcher and centerpiece. But I didn't. And I don't regret it because, frankly, that might have just been overkill.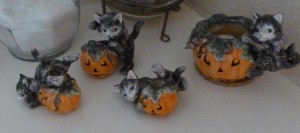 More Fitz & Floyd
Cute, but do kittens really do things like that?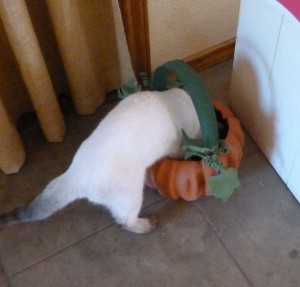 Evidently they do
That would be Sammy (No!) helping with Halloween decorating. I'm telling you he's into everything around here, including pumpkins.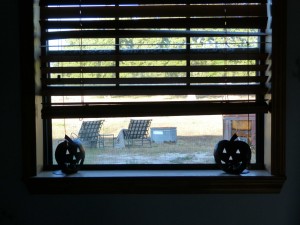 Actually this looks scary
Must have been the time of day I took the picture. Well, heck, maybe I am a bit spooky after all.
Tomorrow's column day and Friday we'll either wrap up decorating or try something completely different. Who knows?
Spreading laughter throughout the world…one chuckle at a time.
Mikie Baker
www.mikiebaker.com