07.14.11
What to do with all that Arugula Pesto you made? Simple! Crank up the grill and make Ava's Green Chicken! This simple dish gets its name from Handsome Handy Man's daughter, Ava, who loves this dish. She always says, "Make the green chicken" so I named it Ava's Green Chicken.
Easy to make and healthy. What could be better? Let's get started, shall we?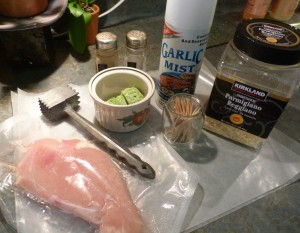 This is all you need to make this dish
Those are two of my frozen Arugula Pesto cubes from the ice cube tray. I just set them out and they thaw in 15 minutes or so. In this Texas heat, it's easy to make them thaw!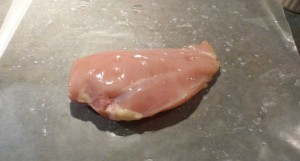 Start with a large, boneless and skinless chicken breast
Put it on wax paper, cover it with another piece of wax paper and start pounding. This is a time to really enjoy taking out your frustrations on this poor defenseless piece of chicken. Pound away!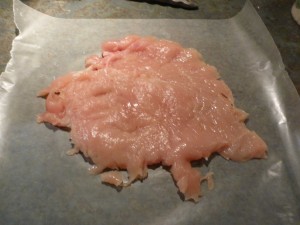 Pound it to about 1/4 inch thick
You know, that type of instruction has always bothered me. Have you ever taken the ruler and and tried to measure your food in the kitchen? It's not only too obsessive for me, I can no longer read notches that small on the ruler. Sigh.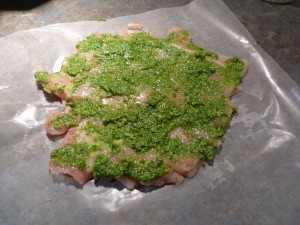 Spread Arugula (or Basil) Pesto on the chicken
I also salted and peppered the chicken breast before I slathered on the pesto. Don't put it on too heavy.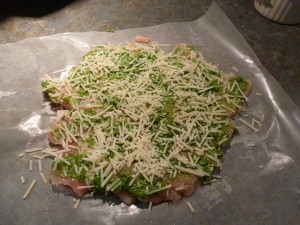 Top with Parmigiano Reggiano Cheese
Let's stop for a moment and discuss the cheese, shall we? Earlier this week I mentioned I was not a fan of the pre-shredded cheese as it's coated in wax.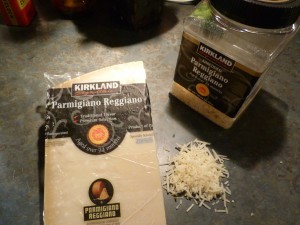 Normally, I buy the block
But this time I decided to try the shredded. It is very convenient and I think I like to use it when I'm grilling as it holds up well on the grill. It just doesn't melt as well when tossed with pasta. Your choice – maybe I'll keep both around for awhile. Now back to that chicken breast.
Next, roll up the large breast, cut in half and fix the ends with toothpicks so it will hold together on the grill (or in the oven.)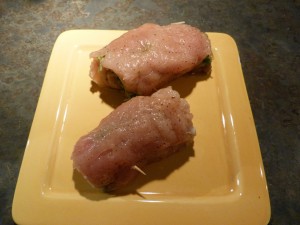 One large breast easily makes two servings
Because I'm going to grill this, I coat the outside with a Garlic Cooking Spray I found at Restaurant Depot. I think it might add a bit of flavor, but not much. You could just as easily use Pam.
Next, I put the chicken breasts in the fridge for half an hour to "harden them up" so they don't fall apart on the grill. If you are baking in the oven, you could skip this step.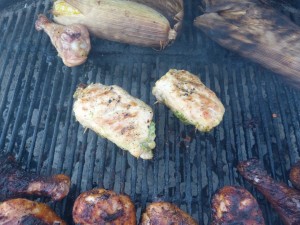 My Grill Action Shot
Because of this extreme drought, I'm always paranoid about pulling out the charcoal grill these days. I make sure I have the water hose turned on and ready to go just in case I get a runaway spark. I also grill up lots of things for other meals.
Turn the chicken every 5 to 7 minutes to insure proper browning. Depending on the heat level of the grill, the chicken will be done in 20 to 30 minutes.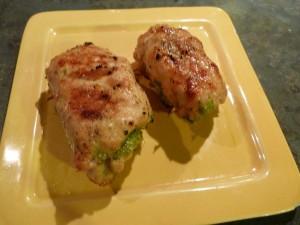 The finished product
Make sure you take out the toothpicks before digging in!
Now here's the recipe, though I have never been much of a recipe writer. I'm too silly for all those details.
Ava's Green Chicken
serves 2
1 large boneless, skinless chicken breast
1/8 cup Arugula (or Basil) Pesto
1/8 cup Parmigiano Reggiano Cheese
cooking spray
salt and pepper
toothpicks
If you want to cook this in the oven, preheat to 350 degrees.
Pound out the chicken breast to 1/4 thick. Salt and pepper the chicken. Spread Arugula Pesto on the chicken. Top with cheese. Roll up tightly, cut in half and affix with toothpicks. Put in the fridge for half an hour.
Grill for 20 to 30 minutes or bake for the same time, checking after 20 minutes with a meat thermometer. Remove toothpicks and serve.
You can also make this same recipe with thin sliced pork chops. Just as delicious.
Well, that's it for this week. I have no idea where we'll head next week. I haven't been out to see the world lately, so we'll have to find something fun around the Dancing Dog Ranch to talk about. Enjoy your weekend.
Spreading laughter throughout the world…one chuckle at a time. Pray for DDM.
Mikie Baker
www.mikiebaker.com