06.16.11
Well, as you know, we're going through some rough times over here at the Dancing Dog Ranch. Dearly Demented Mom is holding her own, but it's stressful for me.  She's sunk deep into the "terrible two's" stage and cusses out everybody that comes near her foot, including me.
At first I tried to correct her and apologize to the lovely nurses and caregivers, but they said not to worry, it was just part of dementia. Still I feel some guilt and stress out of it, but I'll put up with most anything at this point because Dearly Demented Mom is still with me.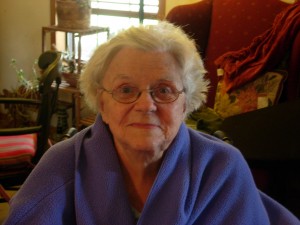 Dorothy Baker
So I've been trying to cook up a few of her favorite things (the ones she can still chew) and I've been sitting with her when she eats and watches TV.
In honor of her favorite things, the other night we stayed up until 10 pm together watching one of our most favorite things.
The Sound of Music
No one can be depressed when they see The Sound of Music, especially a single gal. I can still hope that a very rich, handsome Austrian man will come along and sweep me off my feet, can't I? Of course I'd probably have better luck if I went to Austria.
But there are times I just need a break. When I do, I go outside and look at the beauty God has made and I have watered.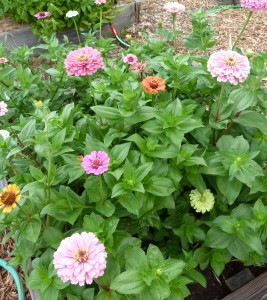 Beautiful Zinnias in the garden
I have two beds of these when you walk into the garden. They're really coming on and love the Texas heat. They're the only ones that love it, I can tell you that.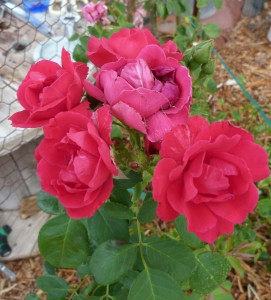 Even these climbing roses are back in bloom
Because it's so darned hot, the only time I go outside is early in the morning and late in the evening. The first place I go to every morning is The Funny Farm because it's all about growth, life and harvest. Great for my soul.
And amazingly, The Funny Farm is still looking pretty good in this extreme drought.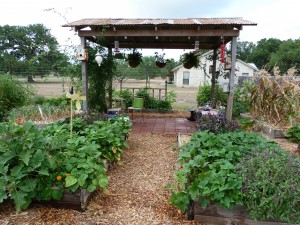 A pathway lined with green beans and sweet potatoes
Now, things just can't be that bad, can they? Life goes on and I'm keeping my sense of humor partially intact. Laughter is the best medicine, after all.
So, I've got lots of these and I think next week, we'll probably doing some canning.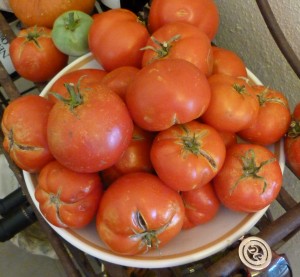 I have over 100 of these bad boys…
…so I guess canning some homemade Tomato Basil Spaghetti sauce is in order. Tune in next week for the recipe and details.
Spreading laughter throughout the world…one chuckle at a time. Pray for DDM.
Mikie Baker
www.mikiebaker.com