06.12.11
Well, Father's Day isn't far away, so let's talk about Dear Old Dad. I lost my dad in November of 1986, but I still miss him and love him to this day. George Joesph Baker a/k/a Joe the Pro was an avid golfer, a great dad and husband, and a true punster.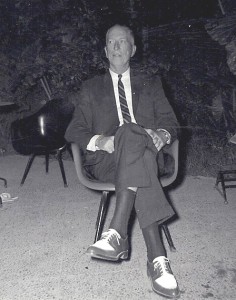 Daddy was always dressed to the hilt
Joe the Pro was a manufacturer's rep for Adam Hat Company and Texas Miller Bros. hats. He was a founding member of the Southwest Mens & Boys Apparel at the Dallas Apparel Mart. There were manufacturer's reps for everything including clothes, shoes, belts, coats, golf apparel, etc.
All the guys would trade each other samples. My dad traded hats for golf shirts, pants and shoes. He has a golfing outfit in every color. I am not kidding. My favorite outfit was completed with orange and white golf shoes. I've still got them.
And I thought I got my shoe fetish from Dearly Demented Mom.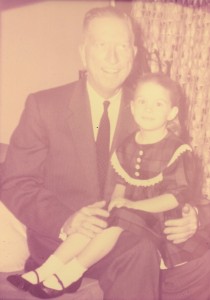 Daddy's Little Girl
Being an only child spoiled brat (just ask my cousin) on Dad's travels, he would always bring me something home. He left at 4 am every Monday and hit all the small towns in Texas calling on the hat store. That was back in the day before John Kennedy (who started the trend not to wear a hat) and WalMart (who put the small, local business owner out of business.)
What kind of presents would Dad bring me? I've already blogged about one.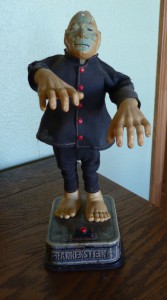 Frank
You push his button, he makes Frankenstein noises, his arms go up and down and then his pants fall down showing his red & white striped boxers and then his face turns red. And you wonder where I got my sick sense of humor.
My favorite present he ever brought home for me was a 6 foot tall Styrofoam Tyrannosaurus Rex. Unfortunately, he finally fell apart. He was great for guarding me and Very Best Friend from monster men when we were dating, though.
Although my father was a scratch golfer and great man, there was something he just could not do. He couldn't fix a thing. Couldn't drive a nail into a wall. So, when it comes to a man who can fix things (especially when he can do it right and not cuss all at the same time), I am truly fascinated. I can drive a nail into a wall, but I'm not much handier than that.
Maybe that's why finding myself a Handsome Handy Man is so important to me. And maybe it's why I came up with this shirt.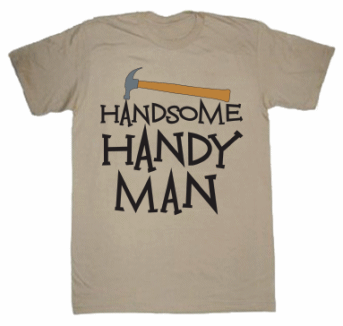 From the Gone Country Collection
If Joe the Pro were around, he'd wear one of these proudly, which matching shoes, even if he knew it was a lie. Why don't you get one for your favorite man today? It's the perfect Father's Day gift and if you order now, I can get it to you before Father's Day.
Maybe Dad's not into shirts. Fear not! The Gone Country Collection also offers a great baseball cap.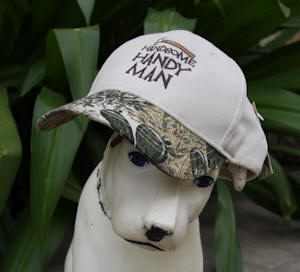 This will cover the gray
Of course we offer Koozies and Mouse Pads, too. Just depends on what your dad is into. Simply click on the merchandise button to the right to place an order.
I'm posting a picture of my dad on Facebook for the next two weeks in honor of him. I suggest you do the same. God Bless all the Dads out there!
Spreading laughter throughout the world…one chuckle at a time. Pray for DDM.
Mikie Baker
www.mikiebaker.com