06.01.11
Things were starting to come in to place at the  Bandera Memorial Day Parade because I found a man.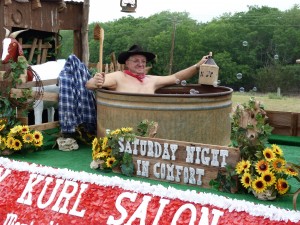 Well, he might have a drinking problem…
…but at least he's clean. Seriously, I'm thinking of going to Comfort some Saturday night. Maybe they have hot tubs all over town. Sounds like some real clean fun.  
After I flirted with the bubble-blowing Liberace, I ran into an old boyfriend.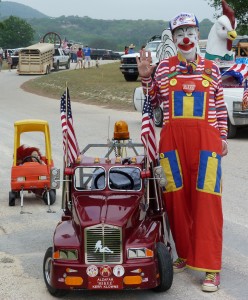 He had a great personality
Plus look at that nice ride he had. I had to dump him because he kept wanting to fool around. Wow, I'm digging deep now.
There's a few more forms or transportation I wanted to show you, speaking of a nice ride.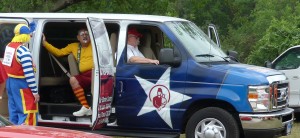 How Clowns Roll
I think they should probably have a big smiley face on the front of that van, but that's only my opinion.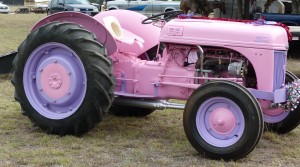 Now this is one fancy tractor
I've always said I'd like to find me a man with a tractor and a bush hog, but if he showed up in this hot pink thing, I'd think twice about him. Anyway, I know a few women that can handle a tractor, so maybe one of them would like a hot pink and purple one.

Patriotic John Deeres
Every Bandera parade features the old John Deere tractors. I just love them. Now those are some real Big Wheels. Next I saw something that reminded me of the Teenage Eating Machine.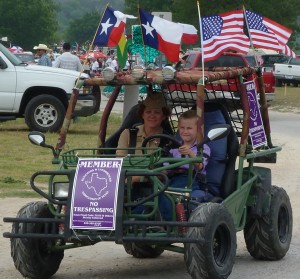 That must be his grandmother…
…because I guarantee you, his mother wouldn't be smiling. I'm pretty sure that thing's road ready and he's about 9. Another Dale Earnhardt, Jr. in the making? You never know. Gulp.
Finally, it was time for the parade to roll. I say roll, because you don't go over 2 mph through town. It was a great thing for me because I got to snap some pictures of the crowd.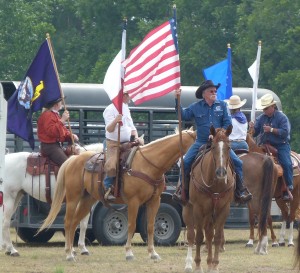 Of course any good parade starts with the Color Guard
In Bandera, our Color Guard always comes in on horses. Very impressive. Once the flags took off, we had to wait awhile as I think we were number 42 in line. But look at the sights along the way.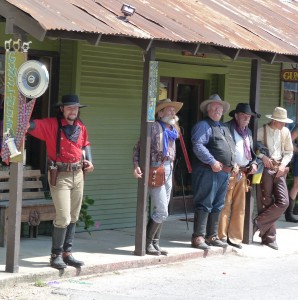 When they say the Cowboy Capitol of the World, they're not kidding
Actually these fine gents do a great shoot 'em up show in front of Gunslingers, which is not a place that sells guns. No, they sell great clothes, boots, hats, jewelry and furniture. If you're in Bandera, I highly recommend you go by and tell Melissa I sent you. You won't get a discount, but you'll get great service. Check them out at www.gunslingerofbandera.com

Main Street was lined with Bandera Parade Fans
Notice all the umbrellas and awnings? Anything for shade this Memorial Day Weekend. Hot and windy.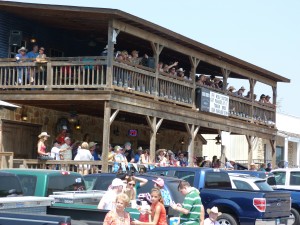 Built in shade at Blue Gene's
Normally I announce Bandera parades from the top left corner of this establishment. It's always packed with party-goers, cold refreshments in hand.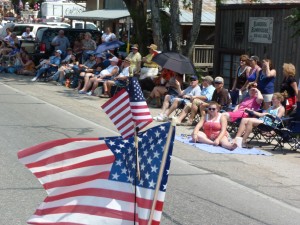 People watching us and Old Glory
It was a great turn out and a fun Bandera Memorial Day Parade. I appreciate riding with Diane Travis and Sunny 96.5 Radio. Hope they invite me to catch a ride again.
After the parade was over, Diane took me back  Bandera Park to get my car. As I was leaving, I found this guy in the park.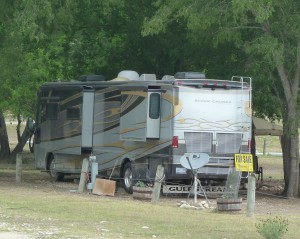 I guess you can still sell your vehicle even if you're living in it
But then the question arises, where are you going to sleep after that? Next week, we'll talk tators if everything holds together around here.
Spreading laughter throughout the world…one chuckle at a time. Pray for DDM.
Mikie Baker
www.mikiebaker.com