10.27.11
Remember how I said I was strictly a purse and beer holder? Never go up on high rides? My Crazy Cuz and Two Star Husband did everything they could to convince me to go on the Texas SkyWay, but I politely declined. Luckily MCC grabbed my camera and came back with some great shots. Thanks to her, you're about to see the State Fair of Texas from a whole different view.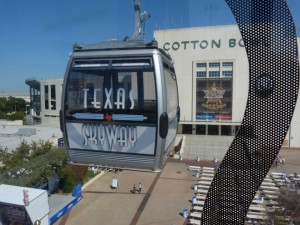 Here's the contraption they rode in
May look safe to you, but to me? Gives me the willies.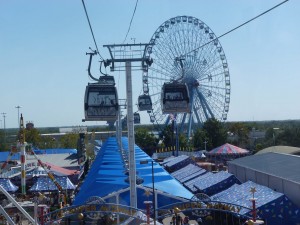 Gulp, here's a view from the top
Now let's get into some interesting photos while I get my stomach out of knots.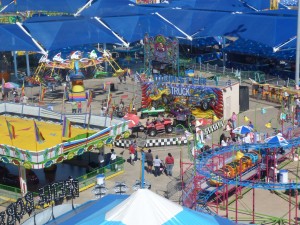 The Magic of the Midway
All I can think is that's about $50 worth of rides at $10 a whack. Oh well, it's all about the kids anyway, isn't it?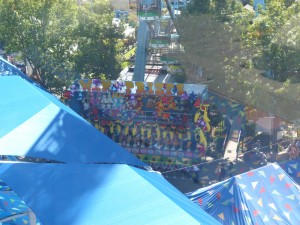 And there's always the lure of "Win Prizes"
I've lugged more than one giant stuffed animal around the fair. Unfortunately, they were not the kind a fella throws his shoulder out to win for you. Nope, I paid the big money for the Teenage Eating Machine to be in giant stuffed animal euphoria.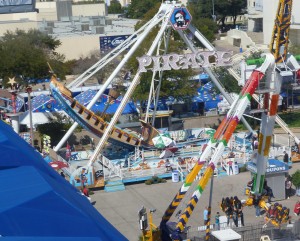 The Infamous Pirate Ship
The first year I took my company to the fair, they convinced me to get on this ride with claims of, "Oh it's not scary, it's just fun. Especially when you sit in the last row." I screamed like a 3-year-old in WalMart. Never again. Why don't they make seat belts for Midway rides, anyway?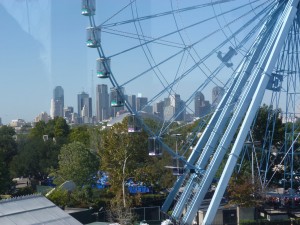 Pretty Cool Shot
There's the Texas Star with the city of Dallas in the background. Somehow the powers that be in Big D have decided they need to have their own Ferris wheel in Downtown. Can't you see a bunch of business men in suits standing in line to ride that thing? Yeah, right.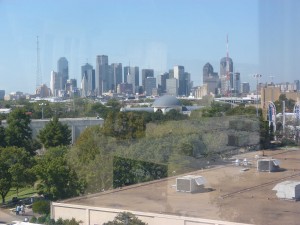 Big D has gone a bit mad
Not only are they putting a Ferris wheel in downtown, but they're building a park OVER Woodall Rogers freeway. Gee kids, let's go to the park…just don't climb the fence. You'll enjoy the smell of automobile exhaust. They're building some pretty odd new buildings down there, too. Ah, give me the Hill Country any day.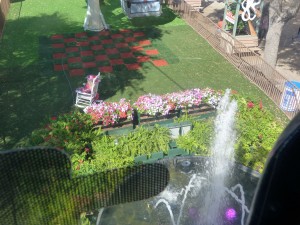 I never noticed this from the ground
Near as I can figure it's a Granny Garden complete with fountain and checker board. Hmmm. Wonder if I could do that in The Funny Farm? Does anyone know where you can buy orange grass?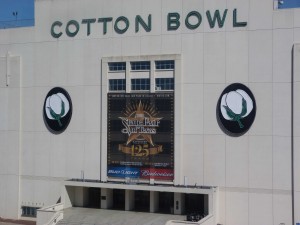 If that building could talk…
Of course no tour of the fair would be complete without seeing the Cotton Bowl. Still the site of the Texas/OU showdown, I remember going there as a kid with my dad to watch the Dallas Cowboys. It was all the kids you wanted to bring for one dollar back in 1960 when they were just getting the Cowboys started. I spent many years in the end zone watching Bullet Bob Hayes run the ball. I also watched Craig Morton blow it again and again. We'll talk more about the Cowboys later.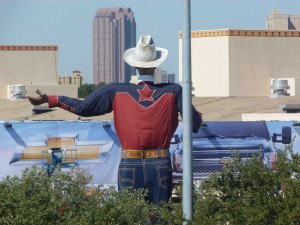 Check out how he fills out his jeans
Of course My Crazy Cousin couldn't resist a butt shot of Big Tex. It's a classic. And it looks like that truck might just be big enough for him to cruise around the state in. Maybe he'll head this way.
Have a great weekend and we'll play with the fair and some other things next week.
Spreading laughter throughout the world…one chuckle at a time.
Mikie Baker
www.mikiebaker.com