10.18.11
Every since I went to Munich and attended the real Oktoberfest, I've been hooked. Never been to a party quite as wild as that. And don't think I want to again. I chose much calmer Oktoberfest functions now. Just like the great one at Mulberry's Wine Bar in Bandera. I never miss it.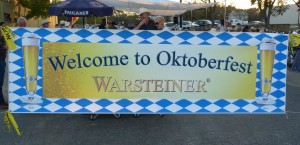 Welcome to a Cowboy Oktoberfest!
Mulberry's blocks off the side street by their lovely establishment for the evening and the party begins. They bring in 3 types of great German beer, offer bratwurst, German potato salad and sauerkraut along with some pretty great homemade pretzels. You can also celebrate with wine if you prefer.
Evidently, blocking off a street in Bandera is official business. Check this out.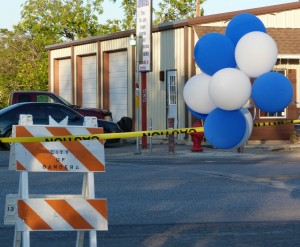 A decorative City of Bandera official street blocker sign
The party also includes German music because what would an Oktoberfest be without some tubas and a squeeze box? More about the band on Friday. But now, let's get back to the fun.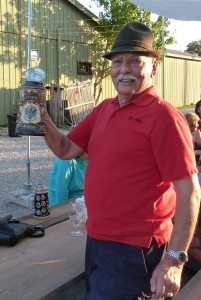 Now he's in the real spirit! Look at that hat and stein!
I used to have a beautiful stein from Germany. Wonder where it is? The Teenage Eating Machine probably broke it while jumping off the roof one day.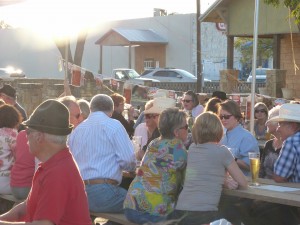 The place was packed
Everyone was in the mood for Oktoberfest. It was a October day. That's the only time we get beautiful days around here – October. At least for a month we're happy.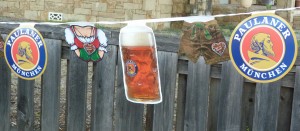 German Decorations are a bit odd, I must admit
I mean big beers, short pants and cleavage? Oh yeah and Caesar. Oh well, after a couple of big beers, who cares?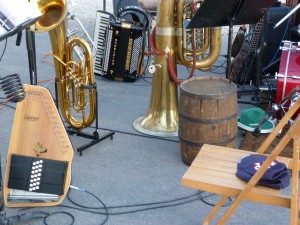 Interesting Instruments
If you're going to have an oompah band, you've gotta have a couple of tubas, a zither and a keg? Really? Wonder what they're going to do with that?
Friday we'll finish up Oktoberfest, but before I leave you, I'd like to share one more thing that comes with a German party. Pole dancing.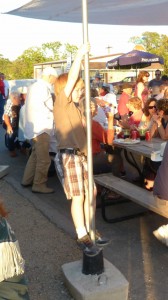 A red-headed one at that
This little boy never left the pole the whole time I was there. Not for food, not to dance, not to go to the bathroom. He just played on the pole. Over and over. I'm pretty sure after hours of practice, he's probably a professional by now.
Tomorrow's column day.
Spreading laughter throughout the world…one chuckle at a time.
Mikie Baker
www.mikiebaker.com