05.09.11
Hope you had a lovely Mother's Day. Everything was coming up roses around here. And squash.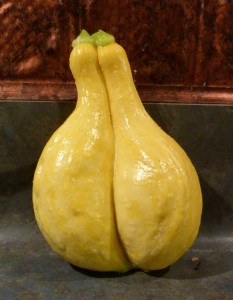 My Mother's Day Gift from The Funny Farm
I thought it looked like twins, but I've heard some other comments that were pretty funny. I'm certain there's a picture of Elvis on there, though.
Dearly Demented Mom requested "turkey and angel cake" for her meal, so I got busy whipping up an Angel Food Cake via Betty Crocker. You just can't beat Angel Food Cake out of the box.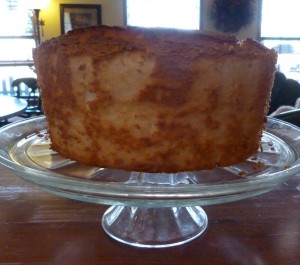 Cake turned out prettier than my picture
I got Dearly Demented Mom up and dressed for the day…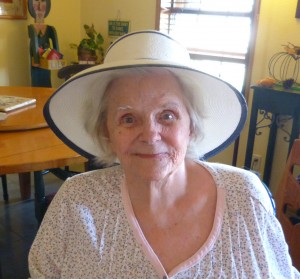 Actually this is a photo from the day before
I dressed her up for the Kentucky Derby. Then I took her picture. Immediately afterwards Dearly Demented Mom said, "Ok, take this thing off me. It's too heavy for my head…"
That afternoon, instead of watching reruns of Matlock, I discovered Turner Movie Classics was showing "Mom" movies all day, so I flipped on TMC so DDM and I could watch this together.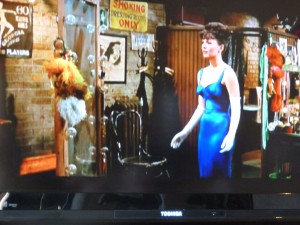 Look, Momma, I'm pretty!
Yes, what better way to share Mother's Day with your Mom than watching the infamous Gypsy Rose Lee? A great "Mom" movie about a young girl making good as a stripper. And it actually made her mother proud. Wish DDM had been as easy on me.
Let Me Entertain You
If Dearly Demented Mom ever heard me say something like that to a boy, she'd have washed my mouth out with soap. Luckily, I was smarter than that. Can you believe that woman's waist?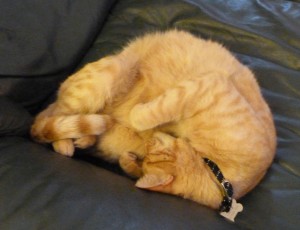 One male in the house who is not impressed by strippers
So, Dearly Demented Mom wanted turkey, but I didn't want to do a full blown Thanksgiving dinner because then I would have had a lousy Mother's Day cooking all day long. She got an abbreviated version on paper as she has a tendency to break fine china.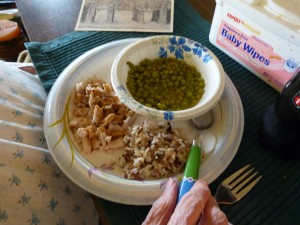 Gotta chop it all up for DDM these days
So, dinner was a success and so was dessert. Dearly Demented Mom was delighted with her evening because she got to watch a M*A*S*H marathon. Me? I headed out to The Funny Farm again. This time something even better than a bizarre squash was waiting.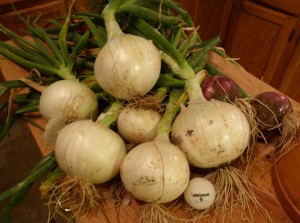 Please note the ping pong ball for perspective
Last year I grew the wrong kind of onions and ended up with a bunch of giant, hot green onions. This year, I must admit, I've done myself proud. Maybe I'll never be a great stripper, but I'd by happy to flash my onions at you anytime.
Tomorrow? Haven't got a clue what we'll get into.
Spreading laughter throughout the world…one chuckle at a time.
Mikie Baker
www.mikiebaker.com
Tags: Angel, Baker, Betty, cake, Classics, Crocker, Dancing, Day, Dearly, Demented, Derby, Dog, Elvis, Entertain, Farm, Food, Funny, Gypsy, Kentucky, Lee, Let, M*A*S*H*, marathon, Matlock, me, Mikie, Mom, Mother's, Movie, of, Ranch, reruns, rose, The, Turner, You