02.28.12
I was born and raised in North Dallas. I used to be very proud of my town until it turned into a cluttered, urban sprawl of strip centers. I ran across an old email I had never read before and found some gems from my home town. I'd like to share now.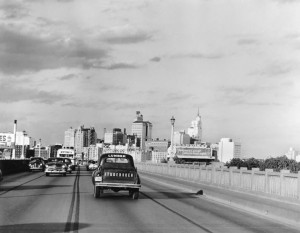 This was Dallas in the early 50's
The view is coming in from Oak Cliff.  Though it was a small town, any town in Texas is never really small because every thing's bigger in Texas! Plus we did possess the crowning jewel of the Southwest: Neiman Marcus. And thus began my addiction to shoes…
But we got fancier as evidenced by this.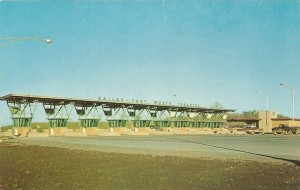 The Dallas Ft Worth Turnpike
They charged a 25 cent toll to go to Ft Worth which was a "fer" piece back in those days. Notice there is nothing around the tollbooth? Couldn't say that today. Of course all the booths are gone now. Wonder who had the first tollway in the country?  Hmmm. Let me know somebody out there who's smarter than me.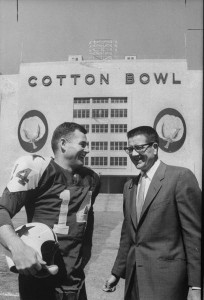 Before America's Team
Yes, Virgina, there was a football team called the Dallas, Texans. They played in the Cotton Bowl prior to their sale in 1959 to Kansas City. They became the Kansas City Chiefs. Who are these two guys? Now this, I know. (Thank you, Daddy!) The star Quarterback is Eddie LaBaron with owner Clint Murchison. Watch it Eddie, you're about to be sold…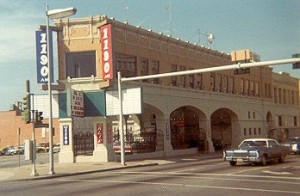 My Alma Mater
At the corner of Central Expressway and Commerce Avenue sat the magic triangle building where brilliance radiated out. The Old Scotsman, Gordon McClendon, invented jingles here, imaginary baseball games, radio contests, news radio and the best Top 40 music in the country. KLIF, the Mighty 1190. My three years there as a DJ and Music Director were big fun for a very young girl. Did you know I was the youngest Music Director of a Top Ten Radio Station in the country? I've been cocky ever since.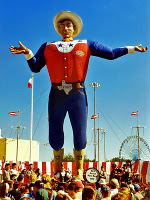 My First Boyfriend
I still flirt with him, Fletcher's Corny Dog in hand, to this day. Howdy, Pardner!
Spreading laughter throughout the world, one chuckle at a time.
Mikie Baker
www.mikiebaker.com