03.12.12
In my opinion, peppers are really easy to grow. Except in a drought. Of course nothing is good to grow in a drought. Anyway, like tomatoes, I pot up my peppers to give them a kick start in early March. And again, if the temperatures start to head south of 35 degrees, I make a mad dash with the peppers to the garage. They prefer warm weather.
Potting up peppers is easier than tomatoes. Just take the small plants and slap them in one gallon containers and you're good to go. I fertilize them every two weeks with organic Hasta Gro while they're in the pots.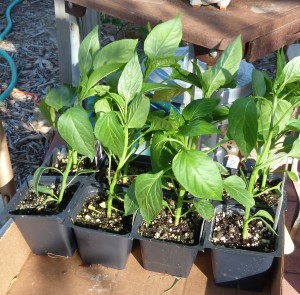 A Pack of Peppers
Let me tell you what I'm growing: one green pepper, two red peppers, two yellow peppers (lucky me, there were two plants in one pot), a purple pepper (never heard of it), a sweet banana pepper, an Anaheim pepper, a Pablano pepper, a Mucho Nacho (jalapeno that I had good luck with last year) and 6 Mammoth Jalapenos (which are a favorite of mine for their nice giant japs.) They're perfect stuffed with cream cheese, wrapped in bacon and grilled.
The one pepper I haven't seen yet is the Pimento. I highly recommend these for their thick flesh and bright red color. They are extra delicious.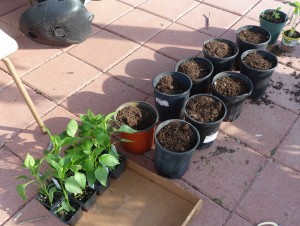 Time to pot them up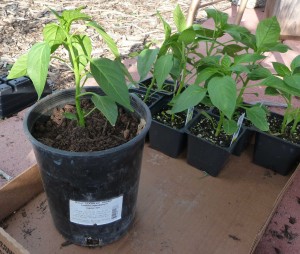 Now they have room to grow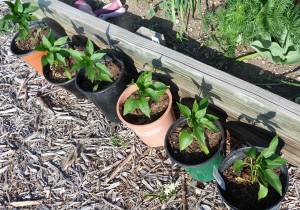 They look so much happier!
A couple of other exciting things are happening in the garden. Let's look and see.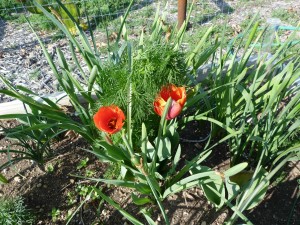 Beautiful tulips in the flower bed
Even though they're not supposed to come back every year down here in this warmer climate, they still do!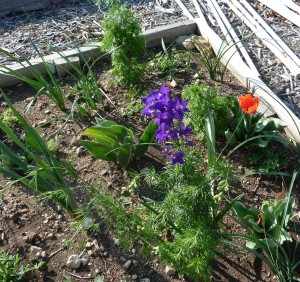 My first Larkspur!
I understand they re-seed and come back every year. I've never grown them before, so we'll see. Just lovely.
One last thing as rainy spring is upon us. Always save your buckets and gather your rain water anyway you can. It's magical for plants – just like adding a good organic fertilizer.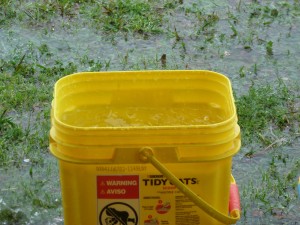 Thanks to the cats for the bucket
Enjoy your garden and this lovely spring! I have no idea what we'll get into tomorrow.
Spreading gardening throughout the country…one tip at a time.
Mikie Baker
www.mikiebaker.com
Tags: a, Anaheim, are, Baker, banana, Easy, gather, green, Gro, grow, Hasta, Jalapenos, larkspur, Mammoth, Mikie, Mucho, Nacho, of, organic, Pablano, pepper, peppers, Pimento, Planting, prefer, purple, Rain, Red, sweet, to, tulips, variety, warm, water, weather, www.mikiebaker.com, yellow, your