03.01.11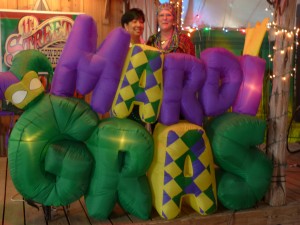 I can tell this party's already getting blown out of proportion
The place to go for the biggest celebration in town was the 11th Street Cowboy Bar. Outside, they were having a gumbo cook-off and inside they were having a beer drink-off. Frankly, beer's the only way I would have shown up dressed like this.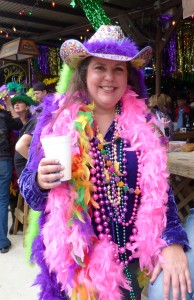 Feather Boas make life more fun
Everyone seemed very happy for me to take their pictures. When it takes this long to get ready for the big day, no wonder.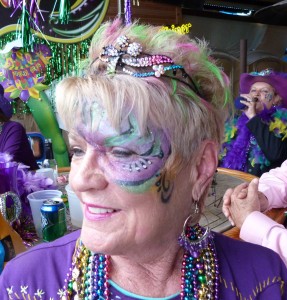 Bet in real life she sells Mary Kay
I'm getting pretty good at occupation guessing, so what do you think about this gal?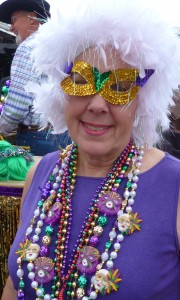 Probably owns a Hair Salon
Of course I ran into friends and fans. It's always great when someone tells me they read my column and how much it makes them laugh. I usually tell them it's because I'm funny…looking.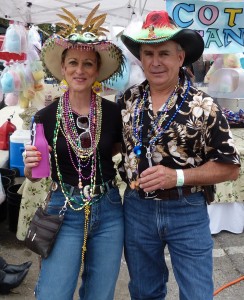 Tastefully dressed fans with Mardi Gras colored Koozies, of course!
Then I ran into a couple of friends, Ray and Ginger King. Ray's won Mardi Gras best dressed two years running.  His costume looks a bit dull compared to some of the others I saw wandering around, but evidently he has a gigantic Budweiser hat that gives him a "heads up" on the competition.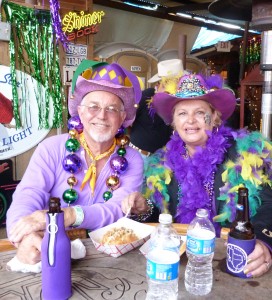 Again, matching Mardi Gras Koozies – I'm thinking this is a Bandera fashion trend.
Luckily, I was surrounded by handsome men all day long.  A single woman just loves to be in a sea of good looking guys.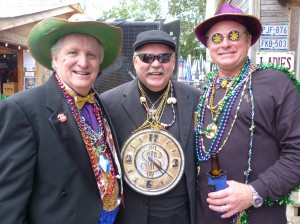 And they say women love bling…
See the guy on the far right? I actually had a date with a man that looked like that – and it wasn't anytime close to Mardi Gras.
Tune in tomorrow for more Mardi Gras fun, costume hilarity and little know weird facts.
Spreading laughter throughout the world…one chuckle at a time.
Mikie Baker
www.mikiebaker.com