11.01.11
Frankly after a full day of fun, we needed to sit down and relax. But before we did that, we had to try our hand at the Texas Lotto. If you purchased $10 of scratch offs, you got a free spin on the Lotto Wheel with a chance to go to the Lotto Booth for even more fun. My Crazy Cousin and I both won our 10 bucks back on scratch offs, though Two Star Husband came up empty handed. Still, we all got to go spin the wheel.
TSH and my spins resulted in winning a couple of scratch offs, by MCC hit the gold star and got to go straight to the magic Lotto Booth. Looked like a lot of fun.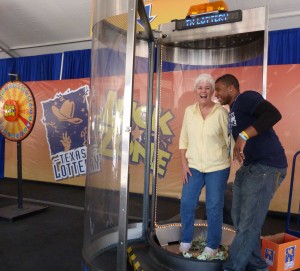 He got her laughing before the big money grab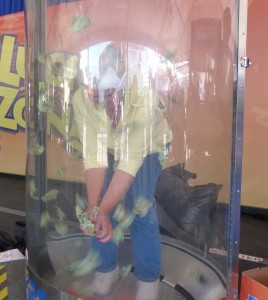 The Action Shot
At first, I thought it was real money, but is was only Lotto Play Money. She grabbed as much as she could in her hands and claimed it was hard work.
The Happy Winner
She collected 18 of those bills (plus found one inside her sweatshirt) and was awarded 18 more scratch off tickets. When we went home and she scratched off all 18, she only won 4 bucks. We decided it was all way too much hard work for 4 dollars. Still, it was State Fair Fun!
Well we had plenty of tickets left and no energy, so we did what all good State Fair goers do. We headed to the Wine Garden. Gotta spend the rest of those tickets, right?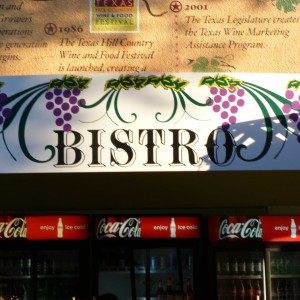 One of the Tasting Areas
They had 5 or 6 different vineyards represented and for 3 tickets you could get a serving that was almost as much as communion size. We tried them all and found a hands down winner. It was the 2011 State Fair of Texas winner a Sangiovese 2009 red produced by McPherson Cellars in Lubbock, TX. Simply delicious.
For a few more tickets, Two Star Husband brought back a bottle with a cheese and fruit plate plus crackers. The weather was beautiful and we were having a lovely time. About then I noticed some people that had maybe already had too much fun.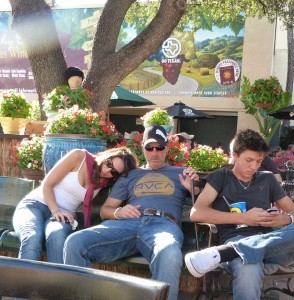 I've just never slept at the State Fair before…
Sure we were tired, but not that tired! But our biggest treat of the day was just around the corner. We had live entertainment.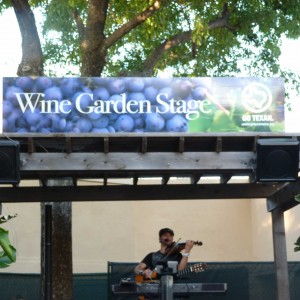 A One Man Band
The Violin Guy was amazing! He played electric piano, guitar, violin and sang all at the same time which, frankly, I never figured out how he did all that. And his violin playing was more of the classic Stradivarius kind. Simply marvelous.
Not only was he a great performer on stage, he hopped around in the audience and gave us all a good time.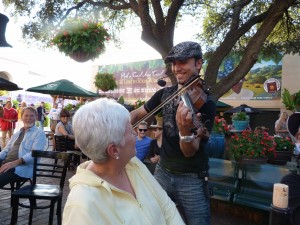 Did I mention cute, too?
He was almost leprechaun like with his jigs and jumps. There was only one thing I found odd.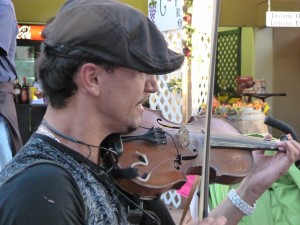 See his big white watch?
Looks like a girl's watch from the 60's to me, but then again, I'm not up on the latest trends. I'm sure he's way too young to need a dial that big.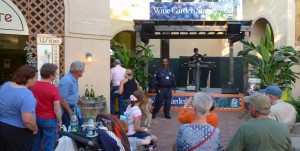 The crowd was in awe of his musical magic
In fact, they couldn't stay seated during the Latin numbers. He also played Phantom of the Opera as good as on Broadway.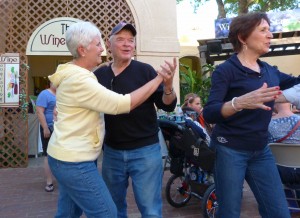 My Cuz and her Husb sure can groove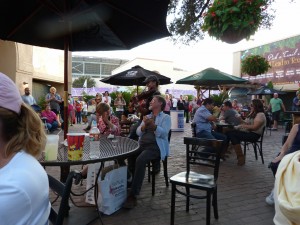 I'd recommed The Violin Guy and
The Wine Garden to anyone at the State Fair
Before we left, my lovely family presented me with an etched bottle of wine with a Happy Birthday 2011 wish on it.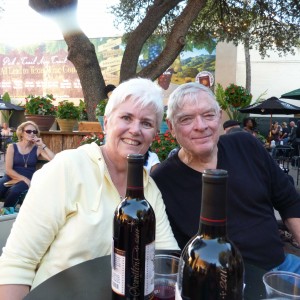 Thanks you two for a lovely time!
And to the rest of you out there, thanks for going on this tour of the Great State Fair of Texas. If you didn't get a chance to get out there this year, make sure you save your money for next year!
Tomorrow's column day and Friday we'll update one of the characters at the Dancing Dog Ranch. Spreading laughter throughout the world…one chuckle at a time.
Mikie Baker
www.mikiebaker.com