01.03.12
Not much has commenced around here this year, yet. But I did manage to scrounge up a couple of vegetables to show you.
Let's stop for a moment and talk about vegetables. If you are still steaming your broccoli, piling cheese on it and turning it into a gummy mush, then throw away your steamer basket. Vegetables are healthy, good on a diet and great the way I fix them.
Just roast them.
It's simple, easy and healthy. All you do is preheat the oven to 400, toss your vegetables with EVOO (extra virgin olive oil) and add the seasonings you prefer. Most things I cook, I just slap a little salt and pepper on them.
The only exception is asparagus. Only roast them for 5 minutes or they will get really mushy. Better yet, throw them on the grill. Asparagus on the grill is great.
Take for example, the dreaded Brussel sprout. I love them but some people don't. That's because they mothers steamed them to death. Here's what roasted Brussel sprouts look like.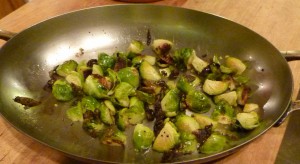 Crunchy and yummy
You can roast green beans the same way, but I have an old recipe I really prefer. I always get complements on this one, so I'm going to share it with you now.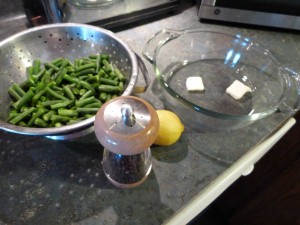 This is all you need
Roasted Green Beans
1 pound of fresh green beans, cut into 1 1/2 to 2 inch pieces; trim off ends
2 TBS butter
1 TBS fresh lemon juice
Freshly cracked pepper (the more the better in my book)
Stick a casserole dish in the hot oven to melt the butter. When melted, add the lemon juice and the green beans. Stir well to coat. Add cracked pepper and mix again. Cover with the casserole lid.
Bake at 400 for 35 to 45 minutes, stirring occasionally.
That's it and they come out crunchy and delicious.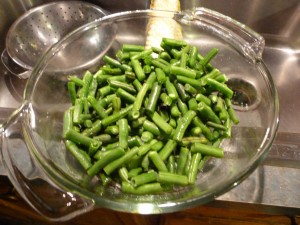 Easy and good
Okay, that's all the diet info for today. Tomorrow is column day and Friday I'm going back to another vegetable recipe I just had recently at a luncheon. It was yummy and healthy, too.
Spreading laughter throughout the world…once chuckle at a time.
Mikie Baker
www.mikiebaker.com