08.07.11
As you may remember, I planted sweet potato slips last April. The tiny transplants have turned into a bed over-flowing with leaves. Just recently I spotted something beautiful about them – flowers.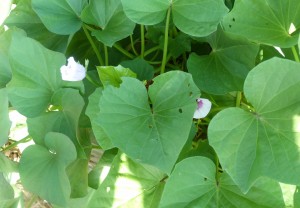 Delicate little flowers in between the large leaves
Let's take a closer look, shall we?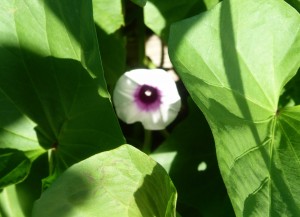 Reminds me of okra blossoms, just smaller
Okra blossoms are large and yellow with red centers. They are from the Hibiscus family. Wonder if these guys are, too?
Here's one more in all its glory.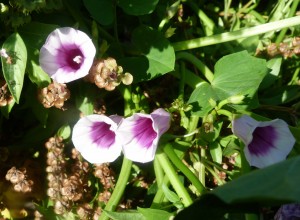 Hope this means really big sweet potatoes
About to disappear for a few days with Very Best Friend. Facials, massages, manicures and pedicures, shopping and maybe even a trip to see the Dallas Cowboys practice. Frankly, just what the doctor ordered, after all, you can't beat America's team and their cute butts.
Spreading laughter throughout the world…one chuckle at a time.
Mikie Baker
www.mikiebaker.com