04.19.11
Still catching up from being out of town last week. Thought we'd take a quick look at how my garden grows. Tomorrow on to more pressing matters. No, that does not mean I have learned how to iron.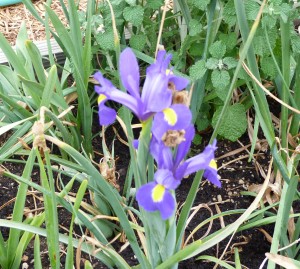 The Very Last of the Irises
This was a real zinger, too. It's one Dutch Iris with two blooms. When I cut it and brought it in for Dearly Demented Mom, I noticed it had a third bloom that was already a goner. A triplet! Sounds like some of DDM's new children…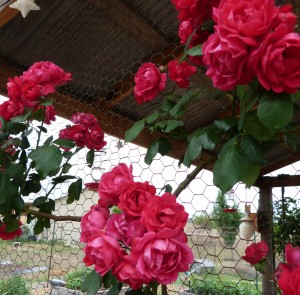 The Unknown Hot Pink Mamas Climbing Roses
I have climbing roses on both sides of The Crazy House. Makes for some nice shade. The light pink climbing roses have almost filled in on one side of The Crazy House. It has made a gorgeous display and totally without my help. How nice, since I'm way too busy spoiling my vegetables.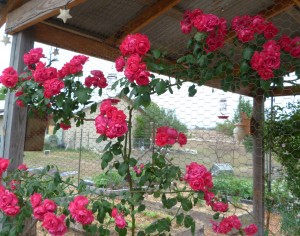 Pretty Clusters of Hot Pink Mamas
This is the unknown climbing rose bush. It was a $5 bargain because the nursery did not know what kind it was. Evidently Rose People have the need to know the name of their roses. I don't know why it matters. I call a squash a squash, not a "crook-neck". I think Rose People  are like Registered Dog People. They need lineage. I need vegetables to grow and I never name them as it's really hard to chow down on King Rex the Potato Head.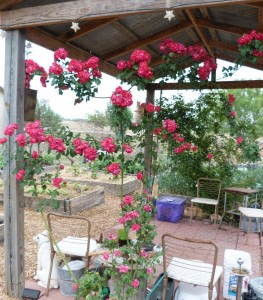 Showy, but where's the rest of it?
The Hot Pink Mamas grow funny. They just send out one big shoot a year. It will take forever for this side to fill in, but those flowers are pretty, so who cares? If anyone knows what kind of  "I don't really want to climb" rose this is, please comment and let me know. Promise I'll share.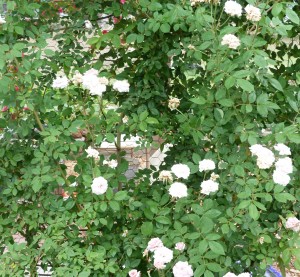 Now that's what I'd call climbing!
These light pink climbing roses have nearly filled in the whole side of The Crazy House. Well at least I've got shade half a day.  And this year that's critical because we haven't seen a drop of rain in a month of Sundays around here.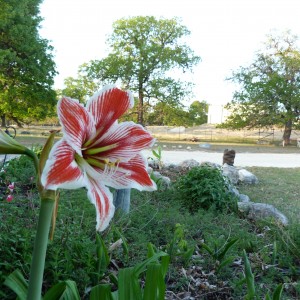 April Amaryllis in the front yard
The garden may look great, but boy the other beds at the Dancing Dog Ranch need work. Any handsome single men out there handy with a hoe?
Tomorrow we're going to check in on the garden. It's now survival of the fittest.
Spreading laughter throughout the world…one chuckle at a time.
Mikie Baker
www.mikiebaker.com