04.12.11
I know it seems my life revolves around homegrown vegetables, but a woman can't live on cantaloupe alone. She must also have flowers.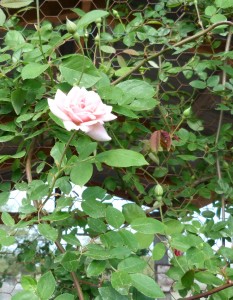 First Rose of the Season
I have climbing roses on The Crazy House. This one is going wild. The flowers are little and delicate. I won't comment on roses – know nothing about them and this is my first time to grow them. This bush doubled in size in one year, but I fought black spot on the leaves. This year? So far, so good.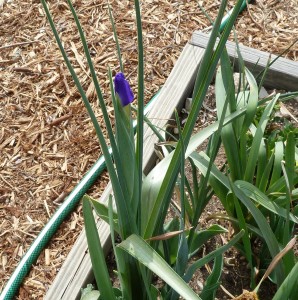 First Iris of the Season
I have two 4 X 4 flower beds. There I grow daffodils, tulips and Dutch Iris because I love them and the deer can't eat them. The daffodils and tulips are long done but, never fear, here come my favorites. Never was a bearded iris fan, but I love these so.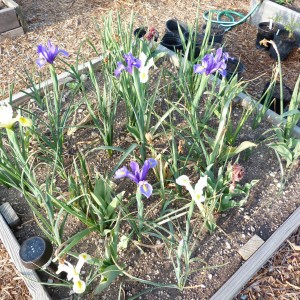 A few days later
 They weren't there for long…I cut them and brought them in to Dearly Demented Mom. Okay, maybe I grabbed a couple for my desk, too. We writers/gardeners need some outdoors indoors to write better.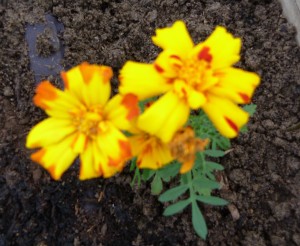 Durango Bolero Marigolds
These look different than regular Marigolds. They aren't as ruffly. I though they were extra pretty. In companion planting, Marigolds are supposed to be beneficial to tomatoes by keeping bad bugs away. I plant them throughout the garden just because they are so pretty. They last all the way through fall until it freezes.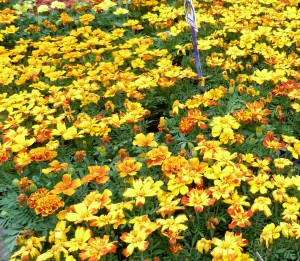 I think I bought too many…
Just kidding, that's a shot of the nursery.
Well, thank you for taking this tour of The Funny Farm. Refreshments and merchandise are for sale at the Dancing Dog Ranch.
Spreading laughter throughout the world…one chuckle at a time.
Mikie Baker
www.mikiebaker.com