05.30.11
How can life be bad when there's a parade? Everybody loves a parade – especially me. I've tap danced through them, marched in them, announced them and this past weekend, rode in the Bandera Memorial Day Parade. And, boy, did I do it in style.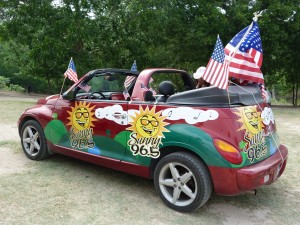 The Sunny Mobile all decked out
This hot little PT Cruiser is just perfect for a parade. With extra large speakers and Sunny 96 blaring, people sit up and take notice. Especially if they see this.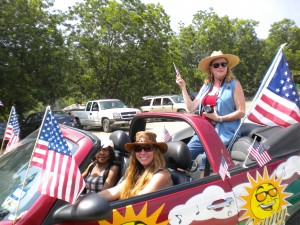 I swear I look like Bonnie holding up her gun next to Clyde
Crusing in the car were Diane Travis, Yvette Williams and the infamous Medina Mikie. As most of you know, I do a funny radio bit 3 mornings a week with Diane Travis of Sunny 96.5 in Kerrville, TX. You can check out their wonderful website at www.sunnyfm96.c0m
In February we announced the Bandera Mardi Gras Parade together. This time we decided to take it easy and ride in the parade instead. I'm not sure it was easier.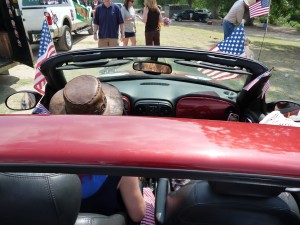 This was my view from uptop
Notice the nice black leather seats? Your barefeet can get really hot while you're braced for a parade ride. Speaking of my view, it was alot better than Diane's.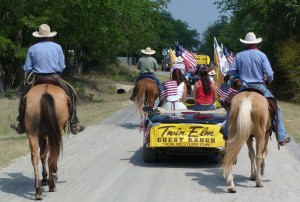 Cowboys from the Twin Elm Guest Ranch
What was interesting about the parade, and made it different from my normal Bandera parade view, was I saw how they set everything up down by the Medina River in the Park before the parade. It can't get nicer than this for a parade set up. No asphalt. Plus it's so organized. Bandera is famous for their great, large parades. They know what they're doing.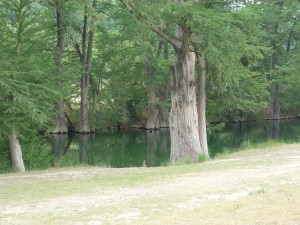 Even in the drought, the Medina River's beautiful
Sunny Radio is part of a large Hill Country Radio Station conglomerete, meaning they have 3 radio stations. Just the kind of conglomerte I like. The other stations include The River (classic oldies) and The Ranch (which is a great blend of classic and current country). Check them out  at www.theranchfm92.com Guess who followed we lovely ladies in the parade?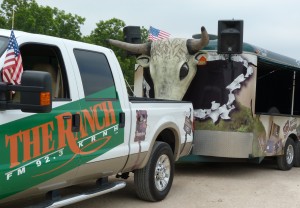 Hmm, wonder if I looked like a large cow sitting in The Sunny Mobile?
Of course, parades are all about transporation. Whether it's gas-driven, horse-driven, or foot driven, you have to get down the road somehow. Let's take a look at some of the great forms of transportation in Bandera parades.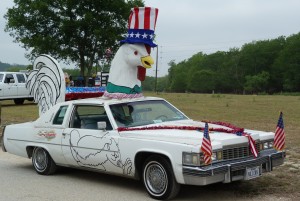 If you're going to have a classic car,
at least have enough sense to decorate it like a chicken
Of course, there can only be one Chicken Man, so people have to get more creative.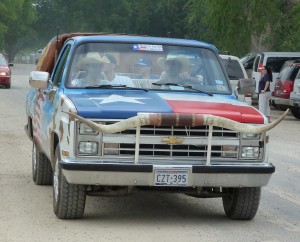 Kinda looks like Bob Phillip's Texas Country Reporter car with horns
Actually, horns are pretty common.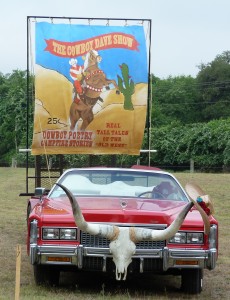 This guy not only had the horns, he had the head
But this was way over the top.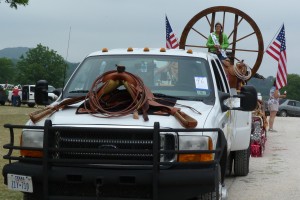 A saddle mounted on the hood
Wonder what they'd think about that in the hood? Some of them might end up in one of these.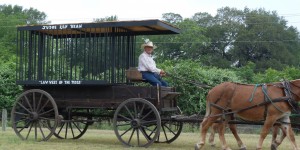 Judge Roy Bean is alive and well in Bandera
We're all good law abiding citizens. When you come to visit us (and we hope you do) act the same please.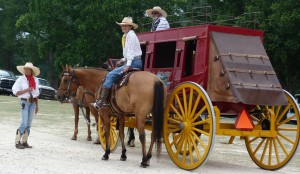 Personally, I'd prefer to ride in one of these
Then maybe I'd meet Bat Masterson. He was cute and single, right?
This guy brought two trucks?
He reminds me of one of those RV guys who hauls a fishing boat behind his bus. Trying to look like a big man on campus. Actually, he's the local tow truck man and he was classy enough to put a classic car on the back. Don't you love a Bandera parade?
Of course, you have to remember what Bandera is all about and that's cowboys. So there were plenty of these.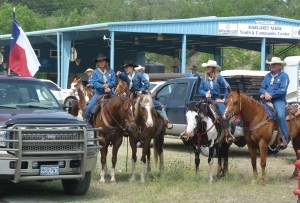 That's what I call real horse power
I've rambled on enough today about transportation, but I'm going to show you the Bandera Memorial Parade all week because there's so much to talk about. In fact, I think I may have found myself a man.
Spreading laughter throughout the world…one chuckle at a time. Pray for DDM.
Mikie Baker
www.mikiebaker.com