07.05.11
Sorry about that. I was supposed to tell you all about Vincent's Seafood Garlic Coleslaw today, but I was way too busy celebrating Fourth of July. Sometimes this old gal just needs a break. Well, at least let me share with you what I did.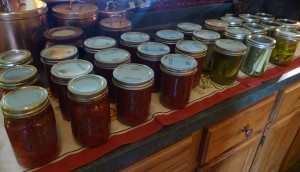 27 pints of canned goods
The day before, it took me around 8 hours to turn 163 tomatoes into Chunky Tomato Basil Sauce (see blog under Recipes to Diet for), so as my act of Independence from fresh tomatoes, I hit it early on July Fourth and canned them. The total? 15 1/2 jars. The half jar I didn't can, I just threw it in the fridge to use this week.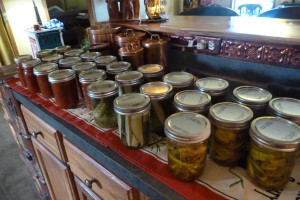 Then it was time to get myself into a pickle
I'd been collecting cucumbers from the garden, though my yield has been pretty pitiful. They're either mis-shaped, too big or just sort of pitiful looking. So I did what any serious dill pickle canner would do – I got creative and started chopping.
I didn't take pictures for the blog as I was embarrassed to show you my cukes. We'll go into making pickles at a later date. Anyway, I made 7 jars of dills (whole, spears, and slices – see I told you I got creative) and then another 7 jars of bread & butter pickles.
I like making pickles. They are so easy to deal with, unlike tomatoes.
Now canning 27 pints of anything ought be enough of a day, don't you think? Not for me! I cleaned up the kitchen and started again. I made baked beans and warmed up some great smoked brisket that Handsome Handy Man gave me last year I had vacuum sealed. Then I invited some friends over and we had a lovely dinner.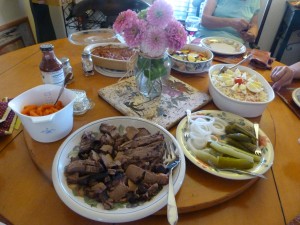 Now, kids, that's some good eatin'
We had a lovely time and a delicious dinner. Of course we stayed inside because that's what Texans do for July and August. Think of it as our January and February for you people up north. Too hot to go outside.
Dinner was topped off with this homemade surprise.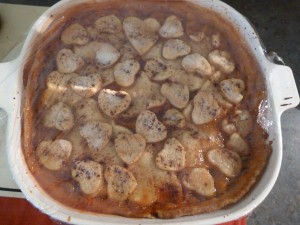 A beautiful and delicious Peach Cobbler
It was more than delicious. It was melt-in-your-mouth good.
Everyone pitched in and we had the kitchen cleaned up in no time. We said our good nights, I forced Dearly Demented Mom away from her Murder, She Wrote marathon and put her to bed. Then I went outside and sat on the porch for a few minutes until I realized how tired I really was.
I hit the hay at 9 pm. If there were any unauthorized fireworks out there, I failed to hear or see them.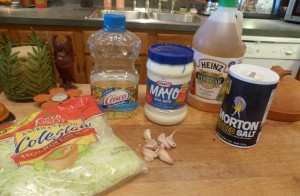 All you need to make Garlic Coleslaw
Tomorrow I promise to show you how to make Vincent's Seafood Garlic Coleslaw. Here's a shot of ingredients in case you need to go to the store. And when you do, grab a bottle of Scope. Trust me, you'll need it after eating all that garlic!
Spreading laughter throughout the world…one chuckle at a time.
Mikie Baker
www.mikiebaker.com