12.12.11
I was going give you an update on The Funny Farm today, but it has been so wet and soupy out, I couldn't get outside to take any pictures. If it's as cold and dreary where you are, then guess it's time for one more soup recipe. The garden can come tomorrow.
I have made this one forever and it comes straight out of my Betty Crocker Cookbook, though I do add a few things to it. Ready? Let's dive right in.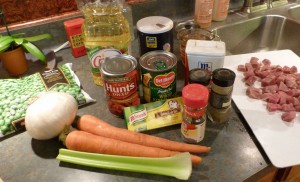 Simple ingredients you've got around the kitchen
First, start off by taking your stew meat and cutting it into one inch or so pieces. Don't get obsessive now…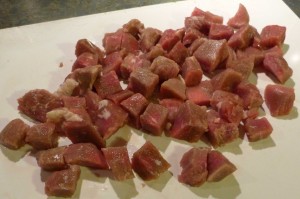 Sorta one inch squares
Now heat the oil in a Dutch oven and then brown the meat.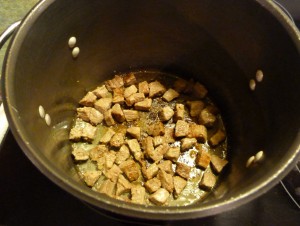 Not a very sexy shot, now is it
Then you add the beef bullion, seasonings and water and let it simmer until tender – usually an hour or an hour and a half. While that's going on you can chop up your fresh vegetables.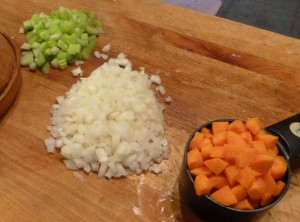 I prefer my carrots chopped small
When the meat is tender, add hot water and the vegetables including the tomatoes.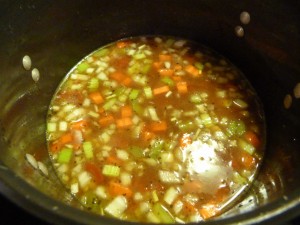 And simmer away
Lastly, I add a couple more vegetables – corn and frozen peas, but you could add anything. Potatoes, green beans, barley, pasta or maybe even (yuck) Lima beans. Whatever you please, though if I added potatoes, I'd put them in with the carrots and celery because they take longer to cook. One inch squares on the tators, too.
Simmer another 15 minutes or so…
…just to get the peas unfrozen. And that's it! Here is the very filling and satisfying result.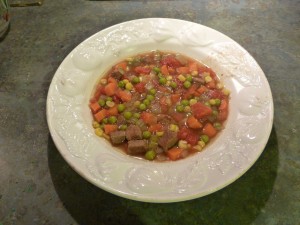 Make sure you have nice crusty bread to go with Vegetable Beef Soup.
Now on to the recipe.
Beef-Vegetable Soup (evidently the REAL name from Betty)
1 pound beef stew meat, cut into one inch cubes
1 TBP vegetable oil (I use Canola)
1 cup water
2 tsp instant beef bullion (or beef base)
1 tsp salt
1/4 tsp dried marjoram leaves
1/4 tsp dried thyme leaves
1/8 tsp pepper
1 bay leaf
4 cups water
2 medium carrots, sliced or chopped
1 large celery stick, sliced or diced
1 medium onion, chopped
1 can (16 ounces) chopped tomatoes
1 can of corn, drained
1/2 small bag of frozen peas
Cook and stir beef in oil in 4-quart Dutch oven over medium heat until brown. Stir in 1 cup water, the bouillon, spices and bay leaf. Cover and simmer until beef is tender, 1 or 1/2 hours.
Next, stir in 4 cups water, the carrots, celery, onion and tomatoes (with liquid). Heat to boiling; reduce heat. Cover and simmer until carrots are tender, about 35 minutes.
Add the corn and peas and simmer another 10 minutes or so.
Yum. I've got some in the freezer. Think I'm going to un-thaw it, so it can un-thaw me!
Spreading recipes throughout the world…one calorie at a time.
Mikie Baker
www.mikiebaker.com