04.14.11
Ok all you good Southern women, here are the results of my Bake Off. The winning Chocolate Pound Cake is sure to be a hit at your next pressure-filled "bring a dessert" gathering.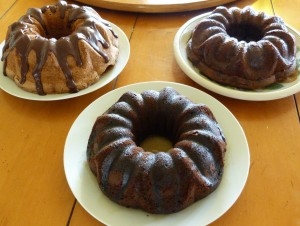 From left: Chocolate Pound Cake, Aunt Marye's Chocolate Pound Cake
and Deep Chocolate Sour Cream Pound Cake
Don't the ladies look lovely all spiffed up in their finest glazes? Remember, this is over 25,000 calories staring you in the face. Add ice cream and, well, you've got enough calories for an entire day's worth of meals.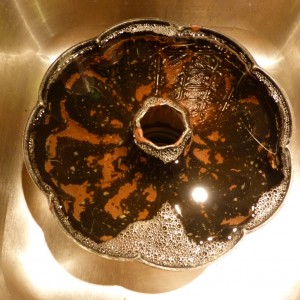 One worn out bundt pan
Now, I'm a believer that a classic Pound Cake should be made in a bundt pan – especially if you're going to glaze it. Others prefer tube pans and actually the author of the winning recipe uses a tube pan for her recipe. I just like the shape the bundt pan produces. So this guy went through a lot of washes.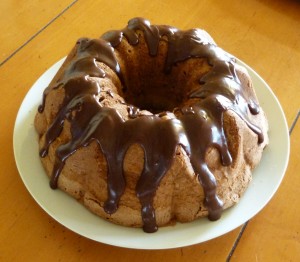 Chocolate Pound Cake with Southern Living's Chocolate Glaze
This was the first one I made. It was your typical Chocolate Pound Cake will lots of eggs, butter and sugar. I thought it needed an extra umph, so instead of powdered sugar, I added the glaze.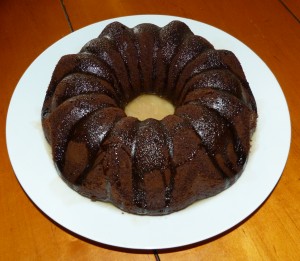 Aunt Marye's Chocolate Pound Cake
My Aunt Mary used to make this all the time. I can never get her glaze right. Uncle Bob was a candy maker extraordinaire (and yes I still make his Pralines), so I think I don't boil the glaze long enough. It's a powdered sugar glaze.
Once I made this Pound Cake, I realized it wasn't really a Pound Cake at all as it's made with Devil's Food cake mix and chocolate pudding. It's great, but was out of the running because it wasn't a true pound cake. Really good, though.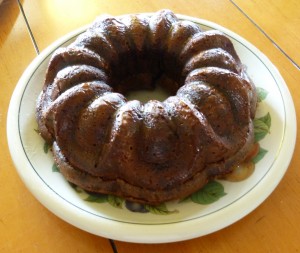 Deep Chocolate Sour Cream Pound Cake
I got the recipe for this off the internet. It was on Cooking.com and here's the link.  http://www.cooking.com/Recipes-and-More/recipes/Deep-Chocolate-Sour-Cream-Pound-Cake-recipe-3347.aspx They credit the source to Food & Wine magazine. I'm a big fan of chocolate and this was the most chocolate one I could find. Also it has sour cream and I like Pound Cakes with sour cream in them because they are extra moist.
I had four or five taste testers and it was almost a tie. Seems people that love chocolate liked the Deep Chocolate Sour Cream Pound cake and those who had more refined tastes liked the classic Chocolate Pound Cake.
Because the Chocolate Pound Cake is so voluminous, it makes for an outstanding presentation and that's what it's all about, isn't it? How good you look before that first slice. So, the winner is: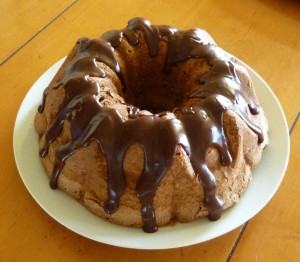 Chocolate Pound Cake
I would credit the author, but this is one of those "my neighbor gave this to me and it came from her Very Best Friend" so I don't know the source. Here's the recipe.
Chocolate Pound Cake
2 tsp baking powder
1/2 cup cocoa powder
1/4 tsp salt
3 cups plain flour
1 tsp vanilla
3 cups sugar
1 cup butter or butter flavor Crisco (I used the real thing)
1 cup milk (I used 2% to save on calories – hahahaha)
5 eggs (farm fresh, baby)
Sift the first four dry ingredients. Use a whisk. Makes it easier.
Cream butter and sugar. Add flour mixture alternately with milk and vanilla. Add eggs, one at a time beating well after each.
Turn into a greased and floured bundt pan. Bake at 300 degrees for about 90 minutes. (I know, sounds long, but it comes out right at about 86 minutes in my new oven.) Cool for 10 minutes and invert onto a rack and cool completely before glazing.
Southern Living's Chocolate Glaze
2 Tbs butter
1 one ounce square unsweetened chocolate
1 cup sifted powdered sugar
2 Tbs boiling water
Combine butter and chocolate in a small heavy sauce pan. Cook over low heat until chocolate melts. (Takes at least 10 minutes.) Cool 3 to 4 minutes. Add sugar and water; beat until smooth, using a wooden spoon. Yields 3/4 a cup.
The trick to this is the boiling water. The first time I made it, I didn't get the water to quite boiling and I thought it was a bit thick and hard to deal with. I had to add more water. The second time, with boiling water, the consistency was perfect. Funny how, if you follow the directions, everything works out just fine.
Now go get busy making yourself a fantastic Pound Cake to thrill your family and friends. And then walk 20 miles.
Spreading laughter throughout the world…one chuckle at a time.
Mikie Baker
www.mikiebaker.com