04.21.11
There we sat filling up an entire church pew. Nearly a dozen women dressed in a variety of black outfits befitting a very black day. We buried another one. Sisters together again. 
Seems I've talked about TGI Friday's more than usual lately, but when I started to work there in 1979, I was a fresh-faced 24-year-old with a whole life ahead of me. The company's standard was excellence and people were standing in line to get into the original casual theme restaurant. They were also standing in line to work at the Corporate Office. 
If you were lucky enough to score a job at the Corporate Office, you were much better than the average bear. You were young, bright and hard working. Our president, Dan Scoggin, would stand for nothing less than the best. We worked hard. We played harder. 
During those hectic days of "giving it all you've got", a group of young, successful women decided it would be fun to play cards once a month.  Since we were all leaders, not followers, it took a bit of negotiation, but we ended up settling on playing Spades. As women don't gamble (for the most part), this monthly card game was more about camaraderie, discussing the events of the day at the Corporate Office and, frankly, cheating a bit at cards. 
We donned ourselves "The Spadettes." 12 women. Three tables of four each. We lost a couple of original members due to firings, moves or lack of interest. Immediately they were replaced and we became such a force to be reckoned with that other women at the office stood in line to just get a spot as a "sub." 
But playing cards just wasn't enough for us. We started a yearly pilgrimage floating down the river in tubes. We added a sleep over and Christmas party.  Though a couple of us have moved away, we all manage to get together for the annual float. 
Thirty years later, though we've slowed down a bit, we are still the Spadettes. How many women have you been friends with for 30 years? In my book, it ranks as a true sisterhood.
We've celebrated marriages, babies, grandbabies and the occasional divorce. Sometimes those can be cause for a celebration, too. We've had more than our share of surgeries and we have the wrinkles to prove we've been around the block – more than once. 
But life is full of ups and downs. The downs show our true measure. The day my 46-year-old husband died suddenly of a heart attack, I gathered the strength to call one of the Spadettes. Within 30 minutes, they were all there running my life and making arrangements. 
That made the fabric of our bond even tighter. Next – we buried a child. No woman should ever have to live through that.
Last week, we took up an entire pew at the memorial service for the second husband that left us too early – Tom Emery. Tom was a wonderful husband and father, a craftsman, a musician, active in his church and a tri-athlete. One day bladder cancer showed up, and after a two year battle, this 57-year-old man finally let go.
We arrived from all over the state to fill the church and support our sister. Forget those mushy "sister" emails you get. This is what sisterhood is all about. 
Thank God for my sisters who see me through both the good and the bad. Have you told your best friend(s) how much you love them today? If not, pick up the phone. Life is too short not to.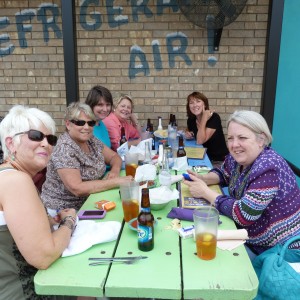 Half of the Spadettes – guess we were playing without a full deck… 
Spreading laughter throughout the world…one chuckle at a time.
Mikie Baker
www.mikiebaker.com
Copyright Medina Mikie, Ink. 2011