07.21.11
Author's note: This column was written Friday, July 15. On Tuesday, July 19 Dorothy Baker passed away peacefully at home with her daughter by her side. 
As Mom goes through her final phase of life, I'm struck with what a strong woman she is and has always been. She's fighting to the end. Me?  I'm just about worn out. 
It's probably best that none of us knows when we're going to go to that big Funny Farm in the sky. Dearly Demented Mom is totally oblivious to her impending demise. Unfortunately I am not. 
So how do I deal with it? I run around doing everything possible for DDM to keep her alive. Not only is it a losing battle, it's stressful to boot. No need for an Ambien around here. When I stagger to bed at night, I just collapse.
Although DDM is communicating less and less, with all that fight in her, the things coming out of her mouth seem all the more humorous than ever before. I've been keeping a list and thought I'd share some recent events with you. 
Appearance
As I've mentioned before, my mother would never let me buy a dress that did not have matching seams. We've had knock-down drag-outs over this point as my Bostonian mother had to make sure I dressed "properly." So it came as no surprise to me the other day when I went to get her up. She took one look at my shorts and said, "Your shorts are too short." And, dog gone it, she was right. 
Table Manners
DDM isn't eating enough to keep my left leg alive. I'm constantly walking by her and stuffing a spoonful of whatever mushy thing I've made into her mouth. Evidently, the other day she thought she'd had enough of this. She looked up at me and said, "Stop that! I can feed myself!" To which I replied, "Then do it." 
Brain Power
Dementia and Alzheimer's are two different animals. Seems Alzheimer's attacks the memory. I can attest to my 91-year-old mother's good memory. As I said, she can hardly swallow much anymore so I came up with the great idea of feeding her mashed potatoes slathered in butter and smothered in sour cream. Easy to consume and loaded with calories. Perfect for Mom. 
The first night I made the mashed potatoes, they were a real hit. She ate every bite. Great! I'd found a new go-to dish for Mom. The second night, they weren't such a big hit. But the third night I presented them to her, she looked up at me and scowled. "You have served me mashed potatoes three nights in a row. Can't you afford any meat?" 
Childhood Memories
Mom's gotten really feisty in the mornings when I get her up. I have to change her nightgown and diaper and roll her around to position her on the sling for the lift that I use to get her out of bed. She's taken to scratching me with her nails. Her bathing aide came to my aid and suggested I put a sock over her hand so she couldn't get a good grip on me. It worked like a charm. Of course now I wish I still had my Sherry Lewis hand puppet because Mom would look so much better sporting Lamb Chop. 
Though she keeps demanding Boston Fried Clams and is insistent that every day is Father's Day, my wonderful mother is not ready to go yet. She's having way too much fun driving me crazy. And it's working.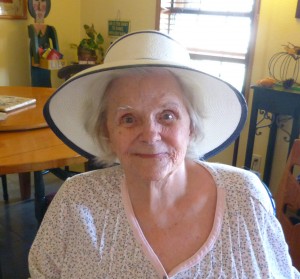 In Loving Memory of Dorothy Baker
Spreading laughter throughout the world…one chuckle at a time.
Mikie Baker
www.mikiebaker.com
Tags: Alzheimer's, and, Baker, Boston, by, Chop, Clams, Day, Dearly, Demented, dementia, Farm, Father's, Fried, Funny, hand, Lamb, Lewis, Mikie, Mom, puppet, sherry, www.mikiebaker.com