10.09.11
The Rose Garden Club of Medina teaches 5th and 6th graders at the Medina Elementary School how to grow vegetables. Nearly 20 women help with this effort every week during the school year and I am lucky enough to put all the pieces together so we accomplish our goal of hands-on learning. 
It is joyful and always amazing to see children's eyes light up when they pull their first radish. After that, they begin the age old tradition of bragging how big their vegetables are.
Rewarding? Ten fold. Know what I'm doing? Not yet, as what they do and grow is still a learning process for me. All gardening teaches you that weather conditions, seed type, bugs, soil, water, and so forth which can make or break a garden. As I learn, I simply try and keep up with the kids on what and how they plant.
The first semester our garden club decided to put all the vegetable seeds in sandwich baggies, hand them to the students and let them plant. And plant they did…into clumps. It was a wonderful calamity with everything growing wildly.
After much thinning and frustration, we figured out square foot gardening. It makes for a  easier time in the garden while 40 ten and eleven years old run amuck. After all, wouldn't gardening be your favorite class? 
So, being the Jr. Master Gardener certification garden club we are, we initiated square foot gardening. This year, as last, I am trying it out in my own garden what and how we are planting to help both the kids and myself learn – after all do you know what Kohlrabi leaves look like?
Square foot gardening is just a simplier way of getting seeds planted right. Sorry, I've wandered on too long, now let's get right to how this wonderful technique works.
Square Foot Gardening 101
Buy some cheap paper towels. The cheaper the better. You don't want them to absorb water, only to act as a holding spot for the seeds.
All you need is paper towels, Elmer's glue (the real stuff not that stick) and seeds. It would be helpful to have enough of a mathematical brain to count within a 12 inch square. After that, you're good to go.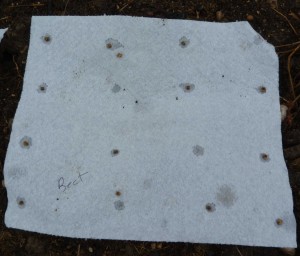 Glued Seeds
First, you need to figure out how many seed to plant in your square. Small stuff like radishes, beets, lettuces, carrots, etc. get 16 to a square (4 rows of 4.)  Bigger things like turnips and lettuces, get 9 to a square (3 rows of 3.) Really big stuff like Swiss chard get 4 seeds per square (2 rows of 2.) Just space them evenly on your 12 X 12 square. Get the idea? If you don't, you can order the book with this book: Square Foot Gardening.
Grab all your seeds, glue and paper towels and get to gluing. Let every sheet dry over night. Don't let the sheets touch each other or they will stick together. Trust me. Tomorrow, after  your seeds are glued and ready to go, I'll show you how to get a fall garden that looks like this.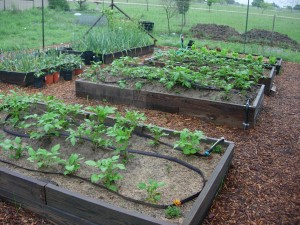 You will be amazed with square foot gardening!
Spreading gardening throughout the world…one seed at a time.
Mikie Baker
www.mikiebaker.com