12.22.11
I know, I know. It's a little late in the season to be giving you a great gift-giving recipe, but this is a special request from Diane Travis at Sunny 96 Radio in Kerrville. Here you go, Diane. Enjoy! The rest of you out there, stream Diane live on the Internet while you're baking.
This holiday season has been a tight one for the Dancing Dog Ranch, so I chose to use things out of my garden as ingredients for my gift giving. As you might remember, this is the first year I've grown sweet potatoes and they were a huge success. Since I have plenty left, I decided to use try this recipe that My Crazy Cousin had laying around.
It comes from Country Living Magazine and was submitted by Kat Green in Marietta, Georgia. And it's yummy. Let's get started, shall we? Calories? What calories?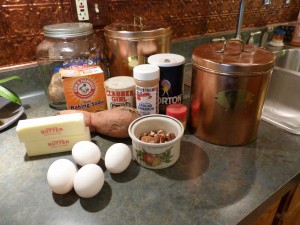 Here's the ingredients
Now I know what  you're thinking. Four eggs? Two sticks of butter? Where's Paula Dean? No worries because this makes two loaves. That's why it's great for making to give as gifts – less time in the kitchen.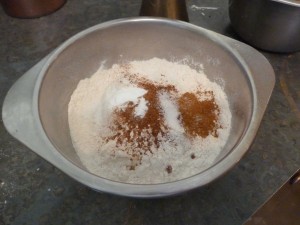 First you combine the dry ingredients
After over 50 years of cooking, I learned a handy trick last year on how to do this in an instant. Maybe the rest of you out there do this every day and think I'm an idiot, but if you don't know this trick, I'd like to share it with you.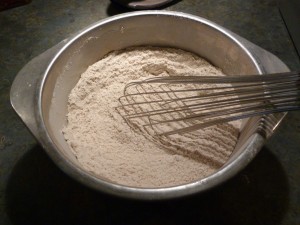 Whisk it!
It gets everything mixed up lickity split. I swear this was never in a Betty Crocker recipe book.
Next, cream the ROOM TEMP butter and sugars together. I say that now because you need to go ahead and get your butter and eggs out as the recipe calls for both to be room temperature. Please, no one call the Department of Health. I'm alive and I still eat raw cookie dough.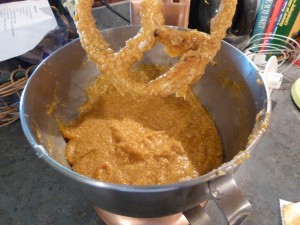 Add the sweet potatoes, then eggs one at a time
Let's stop here for a minute and talk about sweet potatoes. Kat Green says you can drain and mash a 40-ounce can of sweet potatoes if you don't have any around. I quartered a couple of large sweet potatoes, wrapped them up and baked them.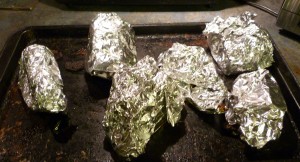 Looks like a lot doesn't it?
Well, after I scooped them out, this is what I ended up with.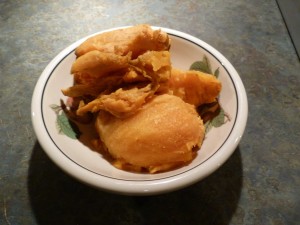 Two cups
It takes lots of sweet potatoes to make 2 cups, I'm just sayin'.
The next step is to gradually mix in the flour mixture. When you're done, you have some very thick batter.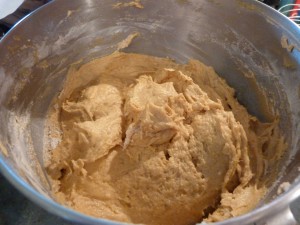 Arm yourself with a spatula
Divide the batter into two greased 9 inch loaf pans.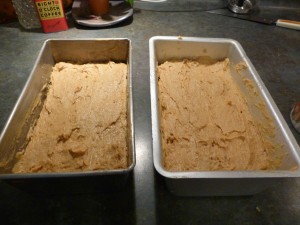 You really have to smooth these out evenly
Then put the pecans on the top. I took some time to do this, so these loaves would look very pretty as they are gifts.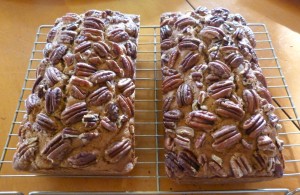 Here they are cooling and waiting to be wrapped
Being that I am not a wrapping expert, I still think I did a good job on these.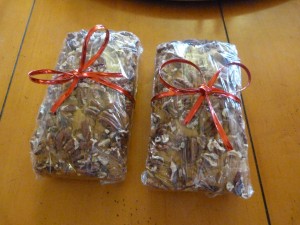 Pretty aren't they?
Before I give you the entire recipe, I'd like you to meet my friend Buck who helped me make these.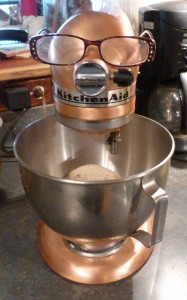 I've always loved those redheads!
Sweet Potato Pound Cake
Makes two 12-slice loaves. Takes about an 1 1/2 hours to make.
Non-stick baking spray with flour
3 cups all-purpose flour
2 tsp baking powder
1 tsp ground cinnamon
1/2 tsp baking soda
1/4 tsp salt
2 sticks unsalted butter, softened
1 1/2 cups granulated sugar
1/2 cup light-brown sugar
1 tsp vanilla extract
2 cups leftover mashed sweet potatoes
4 large eggs
3/4 cup chopped and whole pecans
1. Preheat oven to 325 F. Grease two 9 inch loaf pans with baking spray. In a medium bowl, mix next 6 ingredients.
2. In a large bowl, using an electric mixer on medium, cream the sugars and vanilla until light and fluffy. Blend in sweet potatoes and then add in one egg at a time.  With mixer on low, gradually add flour mixture until blended.
3. Spoon batter evenly into prepared pans. Sprinkle pecans over batter. (I pushed the big ones down in a bit.) Bake until cakes test clean when a skewer is inserted in the middle, 70 to 80 minutes. Cool on a wire rack for 15 minutes. Remove cakes from pans and let cool completely.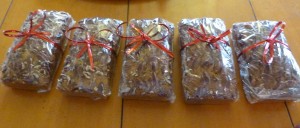 Merry Christmas!
Spreading calories throughout the world…one recipe at a time.
Mikie Baker
www.mikiebaker.com