10.20.11
Back to the great Oktoberfest in Bandera. As the sun was setting, we were swaying to the sounds of Sauerkraut, the wonderful German band from San Antonio. Bet they don't get many gigs on the River Walk. Seems like the mariachis get those first.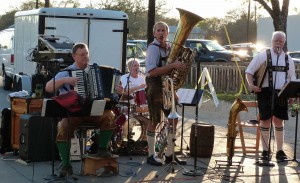 Sauerkraut, an official German band because they wear lederhosen
Kind of fun to look at men's legs, too, when you're drinking German beer. Like I said, I'm an Oktoberfest lover. Obviously, for many reasons.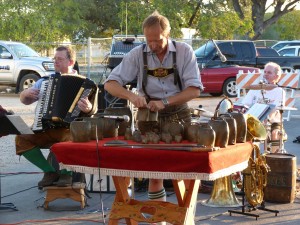 He can ring my bell anytime
As the band played on, I visited with the crowd. When you wander around with a camera and a beer, you never know who you'll see.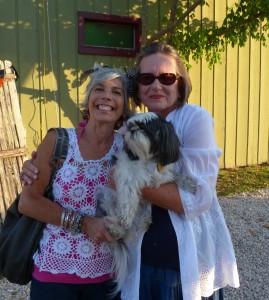 Bubbly Sue Ellen Erhman, City Councilwoman Nancy Montgomery
 and the shaggy dog
Don't the ladies look lovely? As they gallivanted around, so did I. Next I came upon this sight.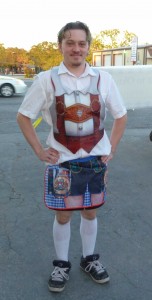 Even the marvelous cook was in the spirit
Do you think he had shorts on under that? Oh well, that's Oktoberfest and we've already seen a pole dancer…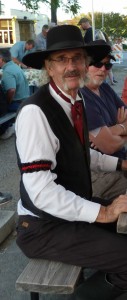 Of course, this is Bandera
And you can't go anywhere without seeing a professional gunslinger and cartoonist for the Bandera County Courier.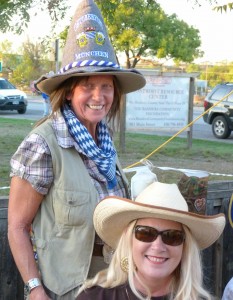 Western meets German with a fashionable Vicky Compton
and an unknown German maid
Like I said, you'll never get the Cowboy out of Bandera. When they started the chicken dance, I had to put down the camera and have my first dance in my new Macie Bean boots. Not only did I manage a wonderful chicken dance, I was glam during the Hokey Pokey, too. Magic boots!
As the sun set, a cowbell band made up of audience volunteers was performing. They gave us plenty of laughs.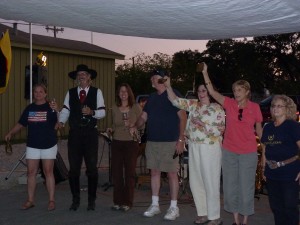 Bandera Bell Ringers
With a drink in one hand and a bell in the other, maybe bell ringing isn't as easy as it looks.
Well, it was just about time for this pumpkin to go home as it was growing dark. But before I left, I checked and there he still was…

The Pole Dancer
Have a great weekend. I'm heading to the Great State Fair of Texas which I love even more than Oktoberfest. We'll take a look at Big Tex next week. And thanks, Mulberry's for a wonderful party, once again!
Spreading laughter throughout the world…one chuckle at a time.
Mikie Baker
www.mikiebaker