05.03.11
This recipe comes to you from Kalyn's Kitchen. Sure, I changed it up a bit, but I must give credit where credit is due. Kayln, a  Utah school teacher,  lost over 40 pounds on the South Beach Diet by using their guidelines and coming up with her own recipes. It was a great idea since the Masters of South Beach are based out of Miami and all they can offer up is fancy fish and mango recipes. Getting a fresh piece of fish here is like finding The Perfect Man. One in a million.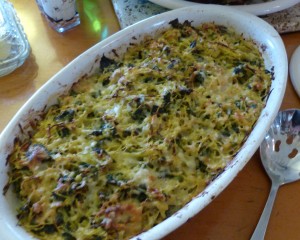 One day I'll figure out food photography
I'm going to give you the recipe first and then I'm going to show you the steps pictorially. I consider this one to be a hard recipe because I've never made it in less than an hour and a half. To me, that's a lot of work but,  it's so good, that you'll be sneaking bites out of the fridge just so your family doesn't get any leftovers. This one rates up there with Chinese Coleslaw. Never fear, I'll blog on that one day.
Ready, set, cook.
Spaghetti Squash and Chard Gratin
1 large spaghetti squash (I get a really big one)
1 T + 1 T olive oil
2 tsp.  Rosemary Garlic Rub (I use Chimichurri spice and explain it in the recipe)
1 large onion, diced small
1 T minced garlic
1/2 tsp. Spike seasoning (optional but good)
1/2 tsp. dried thyme leaves
fresh ground black pepper to taste
2 T finely chopped fresh chives or sliced green onions 
1/2 cup low fat sour cream (don't use fat free)
3/4 cup low fat cottage cheese curds (put the cottage cheese in a fine strainer and rinse with cold water to get the cheese curds)
1/2 cup coarsely grated Parmesan cheese plus about 1/4 cup more for topping the gratin
1 egg, beaten
12-16 oz. chopped Swiss Chard leaves (about 5-6 cups chopped chard; you can use spinach or other greens too if you have a great winter garden)
I have divided this recipe into thirds because I think it's the easiest way to slap it together.
Here we go and yes, you'll thank me after you make it.
Get the Oven Ready
Preheat oven to 400F/200C.
Spray a glass or crockery gratin dish with non-stick spray or brush with olive oil.
Roast Squash
Cut the spaghetti squash in half length-wise and scrape out the seeds.
Rub the inside of each half with 1/2 T olive oil, then sprinkle each half with 1 tsp.the seasoning of your choice.
Spray a roasting pan with non-stick spray.
Put squash in roasting pan and pour 1/4 cup water around bottom of squash. Roast squash at 400 about 45-50 minutes, or until it separates easily into strands when pulled with a fork. It just depends on the size of squash you bought. Stick a fork through it to test for tenderness.
Cool the squash while you're making up the egg and cheese mixture. When it's done, let it cool and then shred it with a fork so it looks like spaghetti.
Egg Mixture
While squash cooks, mix up the egg/cheese/green onion mixture.
First beat the egg. Put low fat cottage cheese in a fine strainer and rinse with cold water until only the cheese curds remain, then let drain. I rinse the cottage cheese first and then measure the 3/4 cup. Add sour cream, Parmesan cheese, green onions. Mix it up and throw it in the fridge.
Swiss Chard
Next wash Swiss Chard leaves well and dry with a paper towels. 
Stack up Swiss Chard leaves on top of each other and slice into thin ribbons, then turn the other way and slice again into small pieces.
Chop the onion. For you obsessive people out there, it's a chop, not a mince. I also chop the hard stalk ends of the Swiss Chard for more color and put those in with the onion when cooking.
Start Cooking
Heat 1 T olive oil over medium heat in a large pan, add chopped onions and Swiss Chard stems then season with Spike seasoning, dried thyme, and black pepper, and saute 3 to 5 minutes.
Add chopped Swiss Chard. Cook 2 minutes, stirring until it wilts to half the size. The chard shouldn't be completely cooked, since it will cook more in the gratin.
Remove from heat.
Combine
Using a large fork, gently mix the shredded spaghetti squash into the onion/chard mixture. Use a large fork for this and it will be much easier – just trust me.
Add the cheese mixture. This takes a while, but you'll get the hang of it.  Put the combined ingredients into the gratin dish and sprinkle the top with the remaining 1/4 cup Parmesan cheese.
Bake about 30-35 minutes, or until the mixture is bubbling and cheese is browned on top. Serve hot.
Now, let me show you how to do this. Like I said, it's hard recipe, but after you make it a couple of times, you'll not only have it down, you'll get the system down for assembly, cooking and cleaning up your kitchen!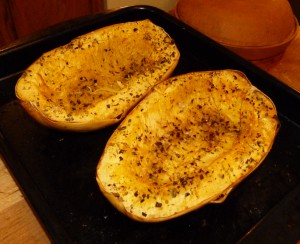 Roasted Spaghetti Squash
The seasoning I use is Chimichurri, which is a Spanish seasoning given to my by My Former Friend. Here's a link I found on the Internet. Never bought from these people, so I can't recommend them, but they look professional and nice. Chimichuri Seasoning. Kayln suggests a rosemary seasoning, but I think rosemary is pretty strong and I only use it on pork. If you like rosemary, sprinkle away.
You can always microwave your Spaghetti Squash, but seasoning and roasting gives the dish much more flavor.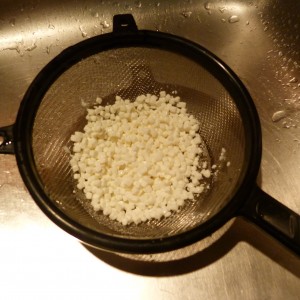 Rinsed Cottage Cheese
It foams up when you start rinsing. Just keeping going until it looks like the above photo.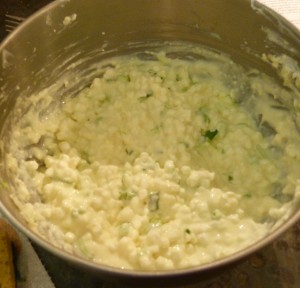 Cottage Cheese Mixture
Kayln says to put the green onions in the Swiss Chard mixture, but I always forget that step, so now I mix the green onions in with the "Gratin" mixture.  Just a tip from my menopausal brain.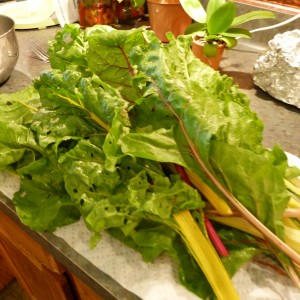 Being a gardener, using my own produce makes me so happy!
But if you aren't a gardener, they sell this in the grocery store. Now Kalyn says to stack up your Swiss chard before cutting and she's right. It works well.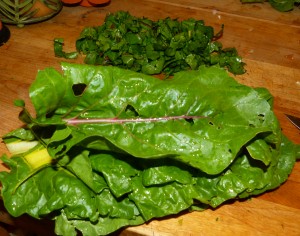 Stacked leaves and finished product in the background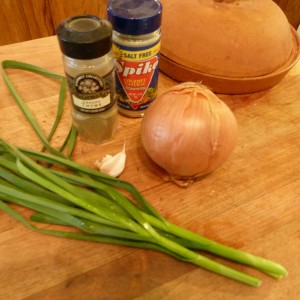 The other ingredients
Now here's my addition to Kalyn's recipe.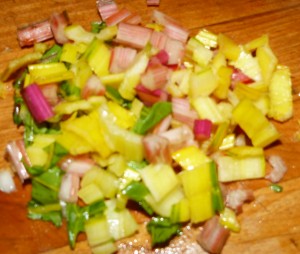 Chopped up stems from my Swiss Chard
I added them to the onions and seasonings when I sauteed them.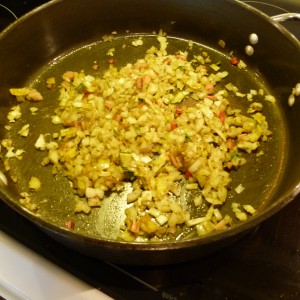 Sauteed down
Now let's add the Swiss Chard.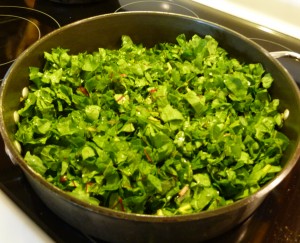 This is pre-cooked
Don't cook it for very long; just a couple of minutes and it will look like this.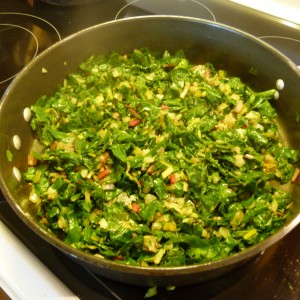 Cooked down
Now add the spaghetti squash.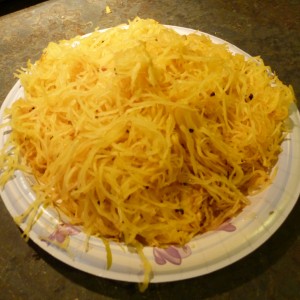 Shredded Spaghetti Squash
Mix it up with the Swiss Chard and cheese mixture.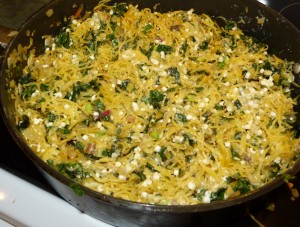 All mixed up
Kalyn has a tip here and it works very well. Use a very large fork (serving size) to mix all this up. It really takes awhile and I always make a mess out of this step. You are on your own as far as your mess goes, but the large fork makes it much easier.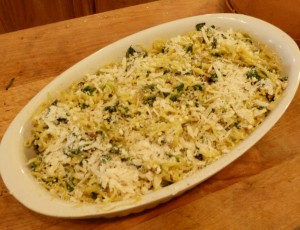 Ready to bake
The finished product with the extra 1/4 cup of freshly grated Parmesan on the top. Remember, bake at 400 for at least 30 minutes. I usually cook it for another 7or 8 minutes, but I also put as much Spaghetti Squash and Swiss Chard in there as possible because the leftovers are so good.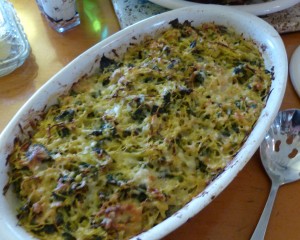 Voila – the finished, delcious product!
I know it's a tricky recipe, but just try it once. Like me, you'll be hooked. Tomorrow, let's learn together about planting sweet potatoes.
Spreading laughter throughout the world…one chuckle at a time.
Mikie Baker
www.mikiebaker.com