07.05.11
If you ever lived in Dallas, you probably had occasion to drive half way across town to get the Garlic Coleslaw at Vincent's Seafood Restaurant. It was served as an appetizer with little crunchy cheese toasts. If you had a date, you needed to be armed with breath mints. Stuff's delicious, healthy and good for you. Plus it keeps the vampires away (probably due to your bad breath.)
So, let's  jump right in and I'll show you this very simple recipe.
First let me say, I got this off the Internet, cut the recipe in half and reduced the amount of salt. Still tastes just as good. I consider this my version, so I'm not giving credit to anyone. I also found the original restaurant recipe but it's in very large portions. If you want to feed a crowd, Google it and see what you find.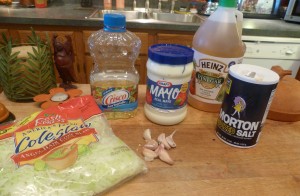 A simple list of ingredients
The recipe calls for Angel Hair Cabbage. You can use that, the regular Coleslaw mix or shred your own. It's not as much about the cabbage as it is about the dressing. The cabbage just needs to be shredded, not chopped.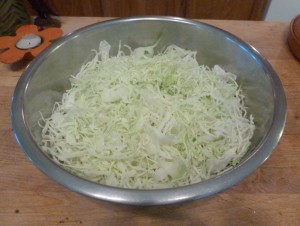 Throw your cabbage in a bowl
I'm showing you this simple step because I want you to see how far this mixes down. If I was going to feed 6 people, I'd double the recipe. But Dearly Demented Mom refuses to eat garlic anymore, so I usually invite a friend over for dinner and we share this with another one of my go-to dishes that I'll tell you about later in this blog. Then I have leftovers for 2 days.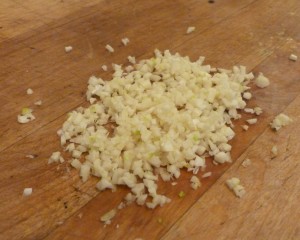 Mince 6 large cloves of garlic
You heard me. Just trust me. Lots of garlic is good for you. And I'm lucky enough to have a large amount of garlic fresh from The Funny Farm.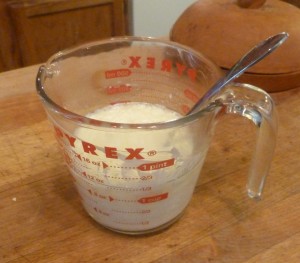 Mix up the sauce
I put it in a Pyrex cup because it's very runny and it's easier to pour over the cabbage and garlic that way.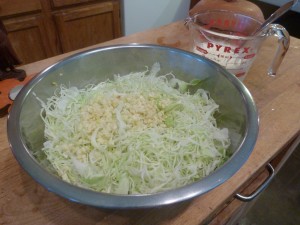 Throw the minced garlic in with the cabbage
Notice how full the bowl looks. Now let's see what happens after you mix in the sauce. You need to keep mixing for at least 3 to 4 minutes to get everything completely coated and the garlic evenly distributed. A large fork works well for this.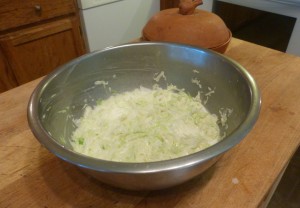 Now it's less than half the volume
Like I said, you may want to double the recipe for a crowd. The recipe that I adapted mine from said to make this 4 to 5 hours before serving and stir again every hour (which I agree with) and to keep it covered with a bag of ice so it will stay extra cold in the fridge. I have a new fridge that keeps everything at 37 degrees (the door computer tells me so), so I don't bother with this step as I think I'd end up with frozen Coleslaw.
Here's the recipe and then we'll see what I like to serve with this wonderful stuff.
Vincent's Seafood Garlic Coleslaw
1 bag of Angel Hair Cabbage
1/2 cup ice water
1/4 cup Apple Cider Vinegar
1 teaspoon salt (original called for 1 Tablespoon, but that was too much salt for my taste)
1/4 cup Mayo (I use Kraft)
1/3 cup vegetable oil plus 2 Tablespoons more
6 large cloves minced garlic (use the real stuff, not out of a bottle)
Combine all ingredients well. Refrigerate for at least 4 hours, stirring once an hour. Enjoy.
This is a great summer dish as it doesn't heat up the kitchen. In the effort to save on the electric bill, I always serve this with Boiled Shrimp. I use the classic TGI Friday's secret recipe that's printed on the back of the Old Bay Seasoning can.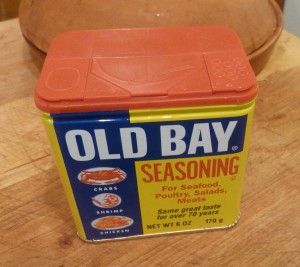 You can't beat Old Bay
Here's the recipe. Couldn't be simpler.
Steamed Shrimp
2 Tablespoons Old Bay Seasoning
1/2 cup vinegar
1/2 cup water
1 lb. shrimp in shells
In saucepan, combine first 3 ingredients. Bring to a boil. Add shrimp, stir gently. Cover, steam until tender about 3 – 5 minutes. Drain and ice.
Friday's always added a few lemon slices in the boiling pot just for a little extra flavor. As soon as the shrimp is ready, drain it into a colander and then throw it in a bowl with lots of ice and put it in the fridge to get cold. I put ice under the shrimp and over it, but I took this photo so you could see how the shrimp looks after it's cooked.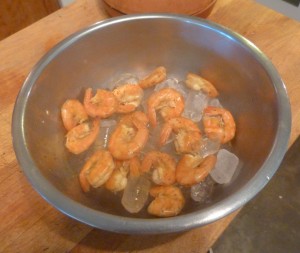 Yum. Where's the extra spicy cocktail sauce?
That's a pretty easy, don't heat up the kitchen, summer meal. I usually boil some fresh corn out of the garden to make it a meal. Any nice single men out there who'd like to come over for dinner?
Tomorrow's column day and then Friday, we'll do Roasted Butternut Squash though that does heat up the house. Stay cool.
Spreading laughter throughout the world…one chuckle at a time. Pray for DDM.
Mikie Baker
www.mikiebaker.com