05.16.11
What I'm going to show you used to be my favorite room at the Dancing Dog Ranch. Since building The Funny Farm, it's now moved to second place.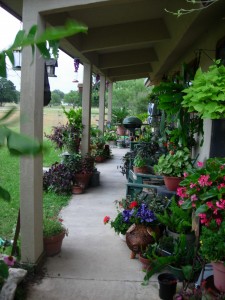 My Front Porch
You know, the air's so clean and it's so peaceful, I spend quite a bit of time on my front porch. I also can escape from constant Murder, She Wrote reruns. I took these pictures last year when there was such a thing as green grass and, I must admit, it's not near as lush looking this year. Of course I've been spending most of my time in The Funny Farm.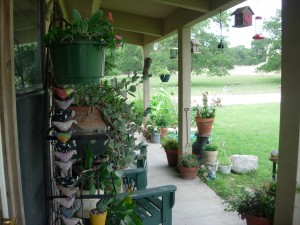 This is the view from the other end
Wow! Green grass! Haven't seen that since last year around here, though we did get almost 7 tenths of an inch of rain the other day.
I do have a bit of advice if you plan on building yourself a sitting porch. Make it wider than 6 feet. More like 12 would be better. This porch is a bit skinny for me considering I load it up with so many plants. But I like to surround myself with flowers and it seems the deer aren't too crazy about cement so they leave my potted plants alone.
Now what makes a great sitting porch? Well, there are some must-have items you need.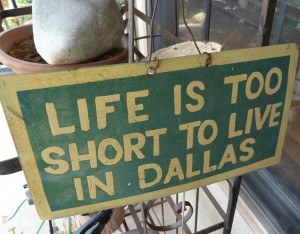 A Reminder
First you must announce to all that enter your porch, why you're here in the first place. Big City life is just not what it's cracked up to be. And neither is the North Dallas Tollway/Race Track.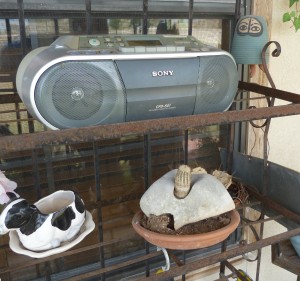 A Boom Box
If you don't have tunes, well, you might as well listen to the sounds of neighbors mowing their lawns. What's in my CD player? Radney Foster, of course. The cow likes him, too.  Next week I hope to have a new Foster and Lloyd CD. Looks like the old men got back together for some new music.
Good Sitting Chairs
And when you're sitting in your chairs, you'll definitely need one of these.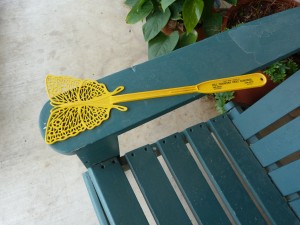 This classic Fly Swatter came from the dump
Quite a find and very useful. When Jimmy Foster comes to visit, we sit on the porch and swat flies. That means we're getting old…
And when a fly lands on you – well sometimes you've just got to take one for the team.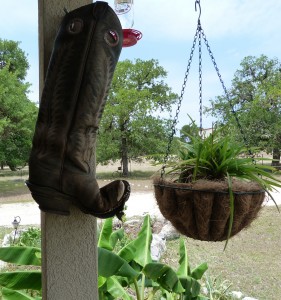 Another wonderful dump find
Everybody in the country needs an old worn out cowboy boot hanging on their porch, don't you think? They say birds will make a nest in it, but none have yet. Oh well, at least I've got half of a boot scootin' man.
Speaking of that, I need to scoot out of here. Tomorrow we'll examine the rest of the necessities of a good sittin' porch.
Spreading laughter throughout the world…one chuckle at a time.
Mikie Baker
www.mikiebaker.com