01.22.12
Seems I got my days wrong last week, so I never finished up the healthy Pork Chop dinner. So let's dive in right now. I tasted this dish at our Garden Club luncheon last December and almost tackled one of our members to get the recipe. I startled her so much, she complied. Thanks, Deborah, and I'll try to be a bit gentler in my requests next time.
Wish those were fresh out of the garden
This recipe is all about the vegetables topped with a few seasonings and some Parmesan cheese.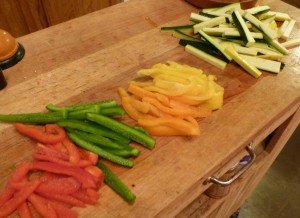 Chop everything up
It's a thick, long chop of the vegetables because the more surface you have, the better the roasting.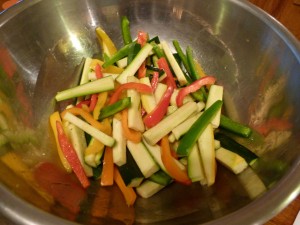 Use a large bowl so tossing will be easy
Toss with oil and seasonings.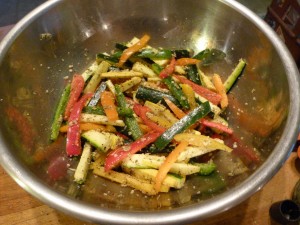 Tossed vegetables
I would coat with the oil and seasonings first and then toss again with the Parmesan cheese.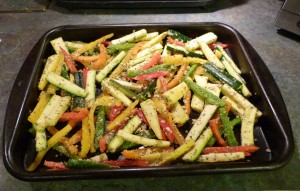 Ready to Roast
Cook in a 400 degree oven. I tossed them once, half way through the cooking time. This makes them crunchier and they will brown better.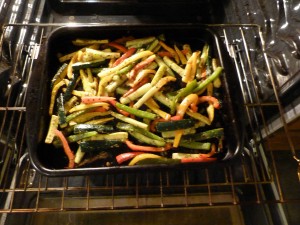 Flipped and browning up
After 15 to 20 minutes, take them out and enjoy. Yummy!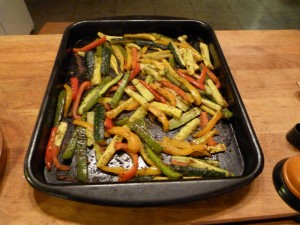 Healthy with a nice Italian twist
Deborah's Italian Roasted Vegetables
(we have no credits, she just found it somewhere along the way)
Preheat oven to 400 degrees
Mix in a large bowl:
3 thinly sliced large bell peppers – use different colors to make your dish pretty
1 zucchini and 1 yellow squash cut in thick strips
1 TBS Italian herb seasoning (or oregano, basil and thyme)
1 TBS garlic powder
1/2 cup grated Parmesan cheese
Extra Virgin Olive Oil
fresh black pepper
Toss vegetables in oil and seasonings. Toss again with Parmesan cheese. Put in baking dish and cook for 15 – 20 minutes, uncovered. Top with more Parmesan before serving, if desired.
Now you have the recipes to a great, healthy meal.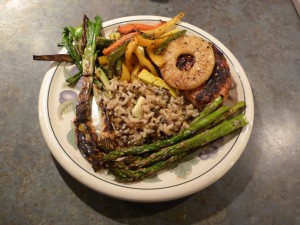 Shown with asparagus and green onions straight off the grill
Been gardening all weekend, so we'll cover that the rest of this week.
Spreading weight loss throughout the world…one calorie at a time.
Mikie Baker
www.mikiebaker.com