01.17.12
It's been a very mild winter here with some days up into the 70's. And every good Texan knows when you've got a sunny, warm day in January, it's time to go outside and fire up the grill. This is what we grilled up around here last night.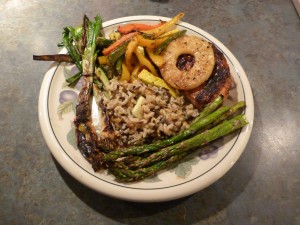 What a great meal
I'm going to break it down into pieces over the next few days. Today we'll start with the pork chop, or protein, if you will.
When you buy pork chops to throw on the grill, make sure they are nice and thick. Pork chops can dry out in an instant, so marinating them over night is always a good idea.
First, poke the chops with a fork until you have lots of holes on both sides. Then pour the marinade on and season with salt, pepper and garlic powder. Heck, I season everything with that.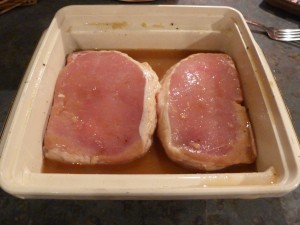 Seasoned and marinated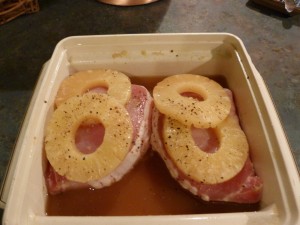 Don't forget to put the pineapple rings on top
Cover and marinate overnight. Flip it first thing in the morning and keep marinating until dinner. Then set out your chops and bring them to room temperature before grilling. Discard the marinade.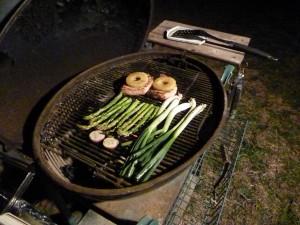 Healthy Grilling
When the pork chops are done, bring them in and enjoy!
SOG's Pork Chops
2 thick cut pork chops
pineapple rings (the smallest can which has 4 rings)
juice from the pineapple can
2 TBS lite soy sauce (less salt and calories)
salt, pepper and garlic powder to taste
Combine the pineapple juice and soy sauce. Poke holes in both sides of pork chops. Pour marinade over them, top with pineapple rings and marinate over night. Flip in the morning and marinade all day.
If you have a FoodSaver marinator, you only have to marinade them for 10 minutes. (Evidently some crazy broad around here has ordered something on the Internet, plans to try it out after UPS leaves, and will probably blog on it later if it's good. Stay tuned.)
Remove pineapple rings before grilling. Grill chops over a medium heat grill for 7 to 10 minutes per side, depending on the thickness and heat of the fire. I cook on a charcoal grill so it depends on the heat of the fire. Oh no, I've thought of another blog on charcoal grilling.
Cook pineapple rings separately. They take a couple of minutes per side. Flip the chops and place the cooked pineapple rings on the top of the chops until the chops are done cooking. 
Tomorrow? My version of Dirty Rice.
Spreading weight loss throughout the world…one calorie at a time.
Mikie Baker
www.mikiebaker.com