03.14.11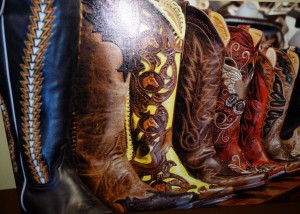 When I hear Gala, I think boot scootin'
But this was a different kind of Gala. There was hardly a cowboy boot in sight. Much more upscale than that. I forgot – this was to benefit a museum and you know how smart those museum types are.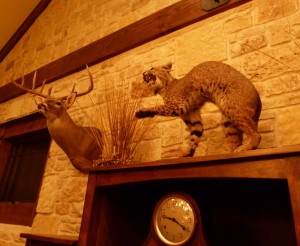 Frankly, I was expecting a wild crowd
Actually, when dressed up in your finest, you tend to act much nicer. Since the venue was beautiful and the meal was so fancy we had 3 forks, folks were on their best behavior.
The other half of the crowd is on the other side of the fireplace
There was fancy food provided by Brick's and served by Bandera High School kids. I asked one of them if he knew what all the forks were for – he laughed and said, "More water?" Obviously, I was on my own.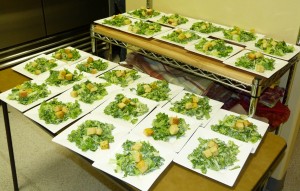 Caesar Salad squared
We started off with a lovely salad and then had a dinner that included steak and quail. I kinda felt sorry for the little chickadees, especially mine.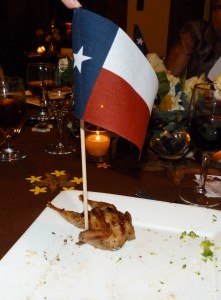 Obviously a Texas quail
While we waited on dessert, our table got creative and obviously bored.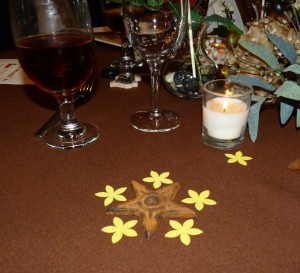 Lovely table decorations rearranged
But wait – here it came hand-delivered by Bandera's best young people.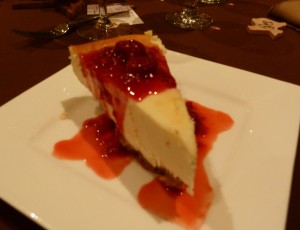 When I took his picture, I didn't even bother to say "Cheese!"
Now I understood what the third fork was for. When dinner was done, it was time to roam around. Tune in tomorrow to see what I found.
Spreading laughter throughout the world…one chuckle at a time.
Mikie Baker
www.mikiebaker.com