01.10.12
Rather than just giving you a bunch of diet vegetable recipes, I thought we'd take something we all love and make it healthier. Today I'm giving you a classic pizza idea and after column day, I'll be showing you how to make a great pizza with less calories!
I found this product in the store and thought it would be fun to try. I've seen Boboli crusts before, but this Mama Mary's whole wheat crust was new to me.
Healthier and less calories
Because I had this package I used it, but normally you would use the more fattening Boboli crusts. I will give you calorie count comparisons on Friday.
Se, let's have a Pizza Party, shall we?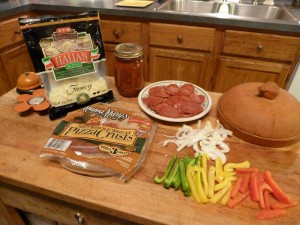 Simple ingredients
This is what I had around the house – pepperoni, peppers, onions and an Italian Cheese Blend. I was trying to make the traditional pizza. Didn't have any mushrooms and I'm not an olive fan.
The directions say to brush the pizza crust with olive oil before adding the sauce, so I did. Also, they provide sauce, but I used my homemade Tomato Basil Sauce created from ingredients out of The Funny Farm because I am a snob. So there.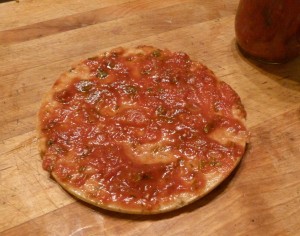 Slather your crust with sauce
Now the next step is purely preference. I prefer the cheese next and then the toppings. Some people prefer cheese on top of everything else. Your call.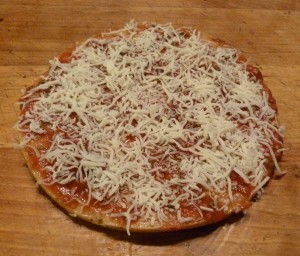 I'd call that medium cheese coverage
With the Teenage Eating Machine, you would not be able to see anything but cheese. And then more cheese.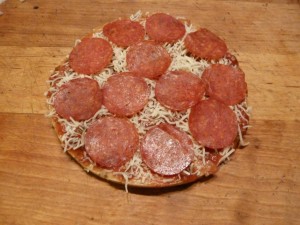 This ain't no stinking turkey pepperoni
Nope it's the real thing. Actually I did mop as much of the grease off as I could with two rounds of paper towels. Still, I was just kidding myself.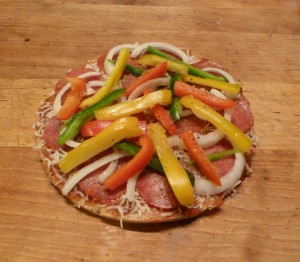 This is my version with all the toppings
I went heavy on the vegetables, again trying to fool myself.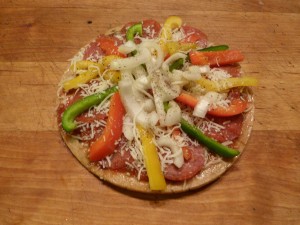 This is Version Two
As I said, we were having a Pizza Party. Fun for everybody to build their own.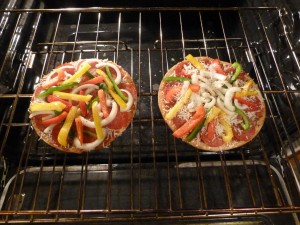 Slap them in a hot oven and grab a beer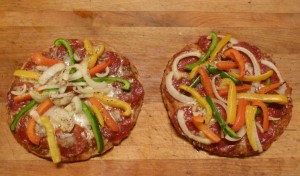 Straight out of the oven
It was amazing, but neither of us could finish our entire pizza, so that's good for the calorie count. I also whipped up a salad using a variety of lettuces out of The Funny Farm and a couple of other simple ingredients.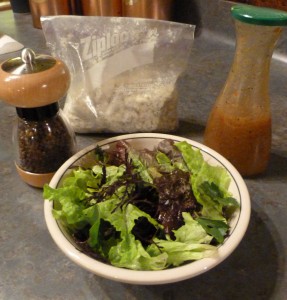 Simple Ingredients
I used Italian Dressing (Good Seasons Zesty Italian is still the best to me), crumbled bleu cheese and cracked pepper. Can't get easier than that.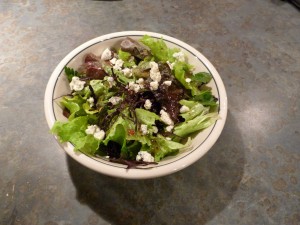 Look at that great variety of lettuces
Really, it was a wonderful meal. There really is no recipe, just follow the instructions on the back of the package for cooking. And use your imagination!
Friday, I'll share a healthy version of a Pizza Party.
Spreading laughter throughout the world…one chuckle at a time.
Mikie Baker
www.mikiebaker.com